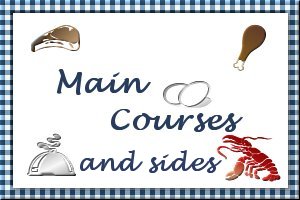 Shepherd's Pie
Submitted by: Cathie
(found in old tin of Yankee recipes)
4 cups cooked cold roast beef
1 onion, chopped fine
1/2 teaspoon pepper
2 tablespoons chopped parsley
1 cup roast beef gravy (more if desired)
1 teaspoon salt
Mashed potatoes

Dice, chop or cut meat fine. Add all other ingredients and mix thoroughly. Line a greased casserole, bottom and sides with mashed potatoes. Then fill dish with meat mixture. Bake 1 hour in 350°F oven and serve hot.

Yankee Pot Roast
Submitted by: Cathie
(This recipe found in old tin is as old as the hills!)
4 pounds beef (bottom round)
1/4 pound salt pork - sliced
1 cup flour
1/4 teaspoon black pepper
1 teaspoon salt
2 cups water
Fry out salt pork. Rub beef on all sides with mixture of flour, salt and pepper. Remove pork and brown beef well on all sides in fat. Add water and cook in "Dutch Oven" until beef is tender. Remove beef. Thicken remaining juices with flour according to your taste and season. You now have a delicious gravy. On platter surround beef with hot cooked carrot slices.

Baked Beef Pie
(New England Style)
Submitted by: Cathie
(taken from an old tin of Yankee recipes)
1 pound stewing beef, cubed
flour
1 small ripe tomato, chopped
2 small onions, chopped
1 small carrot, diced
1/2 clove garlic
A-1 Sauce
Worcestershire Sauce
salt and pepper
pastry crust
Dredge beef cubes in flour and braise in oven in uncovered pan. Saute' vegetables and garlic in a skillet and add to braised beef. Cover with water and stew until tender. Season to taste with the sauces and salt and pepper. Put into pie dish and cover with pastry crust. Bake until brown. Serve hot.

To submit your favorite recipes to be included in the Garden of Friendship Recipe Book, please email them to Barbiel
Background graphics made especially for the Recipes Committee of the Garden of Friendship by Valatine