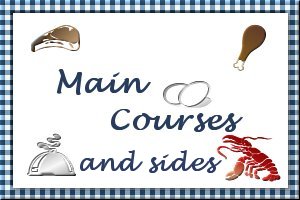 Corned Beef Italienne
Submitted by: Jude
1 tablespoon olive oil
1 medium onion, peeled and sliced
4 tomatoes, sliced
1 large can spaghetti in tomato sauce
1 ounce cheddar cheese, grated
1 ounce breadcrumbs
Preheat oven to 375°F. Heat the oil in a frying pan. Add the onion and fry for 5 minutes, until tender. Arrange the tomatoes in the bottom of an ovenproof dish. When the onion has softened, remove from the heat and mix together with the corned beef and spaghetti, then place on top of the tomatoes. Smooth over the surface. Scatter the cheese and the breadcrumbs on top. Bake in oven for 20-25 minutes, until golden brown on top. Serve immediately. Serves 4.

Meat Loaf
Submitted by: Brenda
2 eggs
2/3 cup cracker crumbs
2 pounds ground beef
3/4 cup milk
1/4 cup chopped onion
1 teaspoon salt
1/8 teaspoon pepper
1/2 teaspoon dry mustard
1/2 teaspoon garlic salt
2 teaspoons Worcestershire sauce
6 tablespoons brown sugar
1/2 cup catsup
2 teaspoons dry mustard

Mix first 9 ingredients thoroughly and place in 9 x 9 baking dish. Shape mixture in loaf shape. Combine the remaining ingredients and pour over meat loaf. Bake at 350°F for 50 minutes.

Beef Stroganoff
Submitted by: Luisa
2 pounds beef tenderloin, cut into bitesize pieces
2 cups fresh mushrooms, sliced
1 large onion, chopped
2 cloves garlic, minced
1 16-ounce container sour cream
1 tablespoon Worcestershire sauce
1/4 cup flour
1/4 cup butter
1/4 cup dry red wine (optional)
1 14-ounce can beef broth
salt and pepper to taste

Lightly coat tenderloin pieces with flour and salt and pepper. In a large saucepan, saute beef in butter with onions, mushrooms and garlic until meat is browned and onions and mushrooms are tender. Add Worcestershire sauce and beef broth and cook over medium heat for 10 minutes. Stir in sour cream and wine and heat for about 5 minutes. Serve over hot cooked noodles. Beef Stroganoff is real comfort food. The tender beef and gravy has a wonderful flavor that is traditionally served over noodles. Use the wide egg noodles rather than thin pasta-type noodles. If you don't like noodles, then you can serve this dish over rice.

To submit your favorite recipes to be included in the Garden of Friendship Recipe Book, please email them to Barbiel
Background graphics made especially for the Recipes Committee of the Garden of Friendship by Valatine