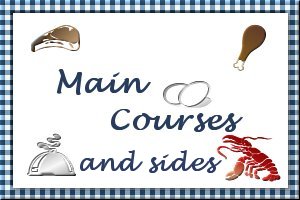 Beef Tips and Rice
Submitted by: Mystic
1 3-pound very lean sirloin tip roast, cut into small pieces
1 quart water
1 medium onion, finely chopped
1 bell pepper, finely chopped
1/4 cup Worcestershire sauce
1/4 cup soy sauce
1 teaspoon garlic powder
1 teaspoon seasoned salt
1 teaspoon black pepper
2 tablespoons self rising flour
1 cup water
8 cups cooked rice
Combine cubed beef, 1 quart water, onion, bell pepper, Worcestershire sauce, and soy sauce in a Dutch oven. Place over medium high heat and bring to a boil. Add garlic powder, seasoned salt, and black pepper. Reduce heat, and simmer for about I hour. mix self rising flour and I cup water, and stir into hot mixture. Cook over medium heat until thickened. Serve over cooked rice. Yields: 10-12 servings.

Veal Scaloppini with Cream Sauce
Submitted by: Sugie
1/2 cup flour
Salt and pepper to taste
4 - 6 veal medallions
1/4 cup butter
4 shallots, minced
1/3 cup fresh mushrooms, chopped
2/3 cup cooked ham, chopped
1/4 cup flour
1 cup milk
1 cup Swiss cheese, shredded
Combine the first 1/2 cup flour and salt and pepper in a small bag. Place veal medallions one at a time in the bag and shake to coat. Melt butter in a saucepan and brown veal on both sides. Remove and place in baking dish. Saute shallots until tender, add mushrooms and ham. Combine remaining 1/4 cup of flour and milk and mix well. Pour over shallots, mushrooms and ham and cook over medium heat until mixture starts to thicken. Pour over veal and sprinkle with cheese. Bake in the oven at 375 degrees until cheese melts.
The Skinny: Use low fat milk and cheese.

Sloppy Joe Burgers
Submitted by: Unicorn
1 pound ground beef
2 tablespoons all purpose flour
1 10 1/2-ounce can condensed french onion soup, undiluted
1/4 teaspoon worcestershire sauce
6 hamburger buns

In a skillet brown the beef then drain. Stir in next 3 ingredients. Bring to boil over medium heat; boil and stir for 2 minutes. Serve on buns.

To submit your favorite recipes to be included in the Garden of Friendship Recipe Book, please email them to Barbiel
Background graphics made especially for the Recipes Committee of the Garden of Friendship by Valatine