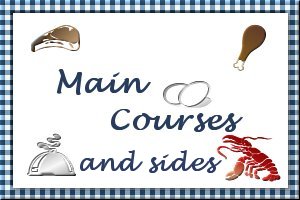 Terrine Rustique
Submitted by: Wolfmama
1 pounds pork meat
2/3 pounds veal meat
1/2 pounds smoked lardoons (bacon)
2 ounces cognac
2 eggs
2 blades of thyme
2 bayleaves
nutmeg, salt & pepper
Cut the meats into cubes. In an electric mixer, with the blade accessory, put meat cubes and crush them, but not too thinly. Put the meat in a salad bowl, pour the cognac, add the thyme leaves, the nutmeg, salt (not too much because of the bacon) and pepper ; mix everything and leave for 15 minutes. Add the 2 eggs to the meat and mix to obtain an homogeneous mixture put it into a paté terrine, smooth the surface and display the bay leaves on. Cover with the terrine lid. Put the terrine on the oven baking tray in which you must always keep some water during the baking time (this is called "bain marie"). Bake in pre-heated oven at 350°F 1 1/2 hours. Let it cool down then keep in fridge for at least 12 hours before serving. Serve with French bread and cornichons (gherkins). Serves 8.

Stuffed Green Peppers
Submitted by: Sandi
1 tablespoon flour
4 6-ounce cans tomato paste
1 cup water
1 tablespoon sugar
1/2 cup chopped onion
1 clove garlic, minced
1 1/2 pounds ground beef
1 cup grated cheddar cheese
1 1/2 cup cooked rice
1 1/2 teaspoon salt
1/4 teaspoon pepper
6 medium green peppers
Preheat oven to 350°F. Place large size (14 X 20") oven cooking bag in 12 X 8 X 2 baking dish. In small bowl, combine flour, tomato paste, water, and sugar. Reserve 1/3 cup tomato sauce for meat mixture; pour remaining sauce into bag. Brown ground beef in skillet. Add onion and garlic; cook until transparent. Drain excess fat. Stir in cheese, rice, salt, pepper, and tomato sauce. Remove tops and seeds from green peppers; stuff with meat mixture. Place stuffed peppers in bag. Close bag with nylon tie; make 6 half-inch slits in top. Bake 30 to 40 minutes or until peppers are tender. To serve, spoon sauce over stuffed peppers. Serves 6.

Haggis
(Scottish Recipe)
Submitted by: Marre


Parts from sheep:
1 sheep's paunch (stomach)
1 liver
1 heart
1 tongue
1/2 lb fresh suet
2 large onions
1/2 lb oatmeal
1/2 teaspoon salt, 1/2 teaspoon pepper
1/2 teaspoon herbs (your choice)
Wash paunch and soak overnight in salt water. Wash liver, heart and tongue and boil in salt water for 2 hours. Then cut into pieces removing gristle and skin, then mince. Mince suet and onions and toast the oatmeal till golden brown. Mix all together adding the salt,pepper and herbs. Moisten the stomach with water which the paunch was boiled in. Fill the bag two thirds full of the mixture and sew up. Prick over enough to create holes enough to prevent bursting. Place Haggis in boiling water and boil for 3 hours. Makes 6-8 servings.
Suggestion: Serve with mash potatoes and turnip.

To submit your favorite recipes to be included in the Garden of Friendship Recipe Book, please email them to Barbiel
Background graphics made especially for the Recipes Committee of the Garden of Friendship by Valatine