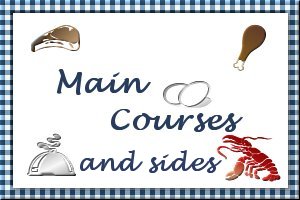 Beef Mincemeat
Submitted by: Wolfmama
2 pounds lean beef
(cooked tender and put through food chopper)
1/2 pound suet, chopped fine
5 pounds tart apples, chopped
3 pounds raisins, chopped
1 tablespoon salt
2 cups brown sugar
4 cups water
(boil apple peel and cores for juice or 1 quart sweet cider)
1 cup meat stock
Allow the above mixture to come to a boil, then let simmer for 1 hour, stirring occasionally. To this mixture, add:
2 1/2 pints grape juice
1 teaspoon mace
2 teaspoons allspice
1/2 teaspoon pepper
2 teaspoons cloves
2 teaspoons nutmeg
2 teaspoons cinnamon
1 cup molasses
1 orange (juice and peel, chopped)
1 lemon (juice and peel, chopped)
3/4 cup vinegar
Allow this entire mixture to come to a boil and let boil 10 minutes. Pack into sterilized jars to within 1 inch of top of jar. Wipe tops, put on lids and cap, screwing band firmly tight. Process in boiling water bath for 30 minutes. Serves 4.

Foolproof Beef and Broccoli
Submitted by: Wolfmama
3/4 pound boneless beef sirloin steak
1 tablespoon vegetable oil
1 clove garlic, minced
1 mediuem onion, cut into wedges
1 can Campbell's cream of broccoli soup
1/4 cup water
1 tablespoon Soy Sauce
2 cup broccoli flowerets
hot cooked noodles
pepper to taste (optional)
Slice beef across the grain into very thin strips. In skillet, over medium-high heat, in hot oil, cook beef and garlic until beef is browned. Add onion. Cook 5 minutes, stirring often. Stir in soup, water and soy sauce. Heat to boiling. Add broccoli. Season with pepper (optional). Reduce heat to low. Cover; simmer 5 minutes or until vegetables are tender. Serve over noodles. Makes 4 servings.
Notes: Recipe may be doubled. To make slicing easier, freeze beef 1 hour.

Spicy Steak with Bombay Potatoes
Submitted by: Lady Seanna
2 tablespoons Olive oil
1/2potato, peeled and diced
1 tablespoon tomato ketchup
1 teaspoonwholegrain mustard
pinch of coriander seeds
pinch of mustard seeds
pinch of oregano
1 teaspoon tomato purée
splash white wine
For the Steak Strips (see below)
Steak Strips:
110g/4oz sirloin steak
pinch of chilli flakes
pinch of cumin seeds
1 tablespoon Olive oil
Heat the oil in a sauté pan and fry the potato for two to three minutes. Stir in the ketchup, mustard, coriander seeds, mustard seeds, oregano, purée and white wine. Reduce the heat and sauté for eight to ten minutes, or until the potato is tender. Rub the steaks in the chilli flakes and cumin seeds. Heat the oil in a medium frying pan. Fry the steak for three to four minutes on each side. Remove from the heat and slice into strips. Spoon the bombay potatoes onto a serving plate and serve the steak slices on top.

To submit your favorite recipes to be included in the Garden of Friendship Recipe Book, please email them to Barbiel
Background graphics made especially for the Recipes Committee of the Garden of Friendship by Valatine