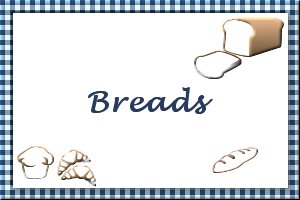 Great Pumpkin Bread
Submitted by: Praying Bear
3 1/2 cups all-purpose flour
2 teaspoons baking soda
1 1/2 teasppons salt
2 teaspoons cinnamon
2 teaspoons nutmeg
3 cups sugar
4 eggs, beaten
2 cups of fresh pumpkin (16 ounces if using canned pumpkin)
2/3 cup water (if pumpkin is canned)
1/2 cup water (if pumpkin is fresh or frozen)
1 cup vegetable oil
1 cup each chopped pecans, white raisins and chocolate chips
Preheat oven to 350°F. Combine flour, soda, salt, cinnamon, nutmeg and sugar in large mixing bowl. Add eggs, water, oil and pumpkin. Stir until blended. Add nuts, white raisins and choclote chips. Mix well. Pour intotwo 9x5" loaf pans. Bake 1 hour. Cool slightly and take out of pans to let cool on a rack. This tastes best if you wrap, refrigerate and wait a day to eat it. It keeps well in the refrigerator and can be frozen. Makes 2 loaves.

Mom's Carrot-Banana Bread
Submitted by: Mickey Mom
1/3 cup vegetable oil
1 cup sugar
2 eggs
2 cups all-purpose flour
1 teaspoon baking soda
1/2 teaspoon salt
1/2 teaspoon cinnamon
1 cup mashed bananas
1 cup grated carrots
1/2 cup chopped nuts
Mix oil and sugar, add eggs. Beat good. Gradually add flour baking soda, salt and cinnamon, alternately with bananas. Stir in carrots and nuts. Bake in greased 9"x 5 " loaf pan at 350°F for 55 to 65 minutes until toothpick test comes out clean. Cool for 10 miutes, before removing from pan. Place on rack to cool completely. Yields: 1 loaf.
~~Enjoy~~
Mom

Zucchini-Walnut Bread
Submitted by: Barbiel
1 1/2 cups all-purpose flour
1 1/2 teaspoons ground cinnamon
1/2 teaspoon salt
1 teaspoon baking powder
1/2 teaspoon baking soda
2 eggs, beaten
1 cup sugar
1 1/2 teaspoons Vanilla extract
1/2 cup vegetable oil
1 1/2 cups shredded zucchini
1/2 cup chopped black walnuts
Preheat oven to 350°F. Grease a 9 1/2 x 5 1/2 inch loaf pan. In a bowl stir together the flour, cinnamon, salt, baking powder and baking soda. In a separate bowl, beat the eggs with the sugar, Vanilla and vegetable oil until its thick. Fold the dry ingredients into the beaten mixture till its all blended. Stir in the zucchini and the nuts. Pour all of it into the loaf pan and back for one hour. Remove and let cool. Makes one loaf.

To submit your favorite recipes to be included in the Garden of Friendship Recipe Book, please email them to Barbiel
Background graphics made especially for the Recipes Committee of the Garden of Friendship by Valatine