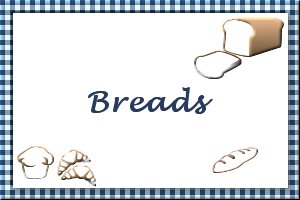 Blueberry Lemon Tea Bread
Submitted by: Brenda
1 stick butter
1 1/3 cups sugar
2 cups flour
1/2 teaspoon salt
2 eggs
1/2 cup milk
1 1/2 cups blueberries (fresh or frozen)
1/4 cup fresh lemon juice
1/3 cup sugar
Blend butter and 1 cup sugar until light and fluffy. Add eggs; beat well for several minutes. Alternately add blended dry ingredients with milk. Gently stir in blueberries and spoon into greased loaf pan. Bake at 350°F for 50-60 minutes. Cool til warm. Remove from pan and prick (many times) top and sides of warm bread with a skewer or fine tined fork. Mix 1/3 cup sugar and lemon juice; brush top and sides well. Finish cooling.

French Bread
Submitted by: Brenda
1 package yeast
1 cup warm water
2 tablespoons sugar
2 teaspoons salt
4 cups flour
cornmeal
Dissolve yeast in warm water; add sugar and salt. Add flour a little at a time, until you have a stiff dough. Knead well. Let rise 45 minutes. Divide in half. Roll oblong and put on greased cookie sheet that has been dusted with corn meal. Let rise until double. Bake at 350°F for 30-35 minutes. After 10 minutes, glaze with beaten egg.

Morning Glory Muffins
Submitted by: Brenda
1 cup sugar
2 cups flour
2 teaspoons cinnamon
2 teaspoons baking soda
1/4 teaspoon salt
1/2 cup raisins
1/2 cup coconut
2 cups shredded carrot (3 carrots)
1 apple, unpeeled, cored and shredded
3 eggs, slightly beaten
1 scant cup oil
1 teaspoon vanilla
1/2 cup chopped nuts

In large bowl, stir together the sugar, flour, cinnamon, baking soda and salt. Add the coconut, raisins, carrots, apple and nuts. Stir well. Add the eggs, oil and vanilla, stirring only until blended. (do not beat) Refrigerate batter overnight. Spoon into greased muffin tins and bake in 375°F oven for 20 minutes. These are wonderful, but the batter must be refrigerated overnight or the texture and flavor will not turn out right.

To submit your favorite recipes to be included in the Garden of Friendship Recipe Book, please email them to Barbiel
Background graphics made especially for the Recipes Committee of the Garden of Friendship by Valatine