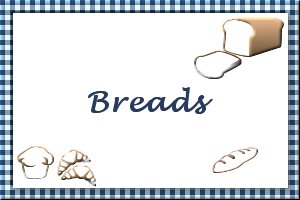 Tea Biscuit Master Mix
Submitted by: Kathie Maclean-Racicot
8 cups sifted all-purpose flour
4 tablespoons baking powder
1 1/2 teaspoons salt
1 cup powdered skim milk
2 cups shortening

In a large bowl combine the flour, baking powder, salt and skim milk powder. Using a pastry blender or two knives, cut in the shortening until the mixture is of fine cornmeal consistency. Store in an airtight container. Yield: 11 cups.

Hot Tea Biscuits
Submitted by: Kathie Maclean-Racicot
2 cups Master Biscuit Mix
2/3 cup milk
Stir the milk slowly into the Master Mix. Form dough into a ball and knead gently about 10 times on a floured board. Handle gently. Roll or press dough to 3/4 in thickness. Cut into rounds. Bake on an ungreased cookie sheet in a preheated 450°F oven, for 15-18 mins, or until golden brown. Yeld: 6-8 biscuits.

Apple Bread
Submitted by: Janna
1/2 cup margarine
3/4 cup sugar
2 eggs
1 teaspoon vanilla
2 cups flour
1 teaspoon baking soda
1/2 teaspoon salt
1/3 cup sour milk or orange juice
1 cup chopped cooking apples
1/3 cup chopped walnuts
In mixer, cream margarine and sugar. Add eggs and vanilla. Combine flour, soda and salt. Add to mixture and alternate with liquid. Add apples and walnuts. Turn into greased 9x5 loaf pan. Bake for about 1 hour at 350°F.

To submit your favorite recipes to be included in the Garden of Friendship Recipe Book, please email them to Barbiel
Background graphics made especially for the Recipes Committee of the Garden of Friendship by Valatine