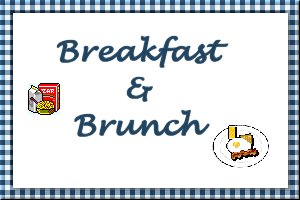 Cheese and Sausage Breakfast Casserole
Submitted by: Jezebel Jen
8 white bread slices, cut into cubes
1 pound bulk pork sausage, crumbled and cooked
1 1/2 cups grated sharp cheddar
10 large eggs
2 cups milk (do not use lowfat or nonfat)
2 teaspoons dry mustard
1 teaspoon salt
Pepper

Grease 9x13-inch glass baking dish. Place bread in prepared dish. Top with sausage and cheese. Beat together eggs and next three ingredients. Season with pepper. Pour over sausage mixture. (Can be prepared 1 day ahead. Chill.) Preheat oven to 350 degrees. Bake casserole until puffed and center is set, about 50 minutes. Cut into squares. Serves 8 to 10.

French Toast
Submitted by: Janna
8 slices Italian bread (cubed with crusts)
4 ounces cream cheese (cubed)
3 eggs
1 1/4 cups milk, light cream, or Half & Half
3 tablespoons melted butter

Grease a 13"x9" baking dish. Place half the bread cubes on the bottom, then the cubed cream cheese and the remaining bread cubes. Beat together eggs, milk, melted butter, syrup (we use a blender). Pour egg mixture over all. Press down bread so all is covered with egg mixture. Cover with plastic wrap and refrigerate 2-24 hours (we freeze and thaw overnight in fridge). Bake at 325 degrees for 35-40 minutes (will stay warm in oven for a few hours). Serve with warm maple syrup.

Crespelle
Submitted by: Luisa
Crespelle are Italian-style crepes. Fill them with everything from seafood to fruit.
2 eggs
1 cup flour
1 cup milk
2 tablespoons butter, melted
1/4 teaspoon salt

Lightly beat the eggs. Whisk in the flour. Stir in the milk. Whisk in the melted butter. Add the salt. Allow the batter to sit for 30 minutes in the refrigerator before using. Heat a small skillet. Lightly oil the pan and add about 1 1/2 ounces of batter. Swirl immediately. Cook for about 45 seconds, then turn and cook the other side for 45 seconds or until lightly browned. Makes about 10.

To submit your favorite recipes to be included in the Garden of Friendship Recipe Book, please email them to Barbiel
Background graphics made especially for the Recipes Committee of the Garden of Friendship by Valatine