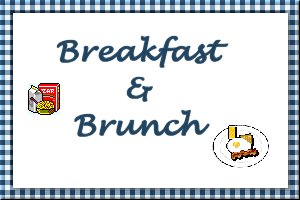 Baked French Toast
Submitted by: Brenda
8 slices french bread or Texas toast
4 eggs
1 cup cream
Pinch of salt
1/4 teaspoon nutmeg
1/4 teaspoon cinnamon
Optional: 1 ounce Grand Marnier in the egg/cream mixture
Cut bread on the diagonal, 3/4 inch thick. Beat eggs until frothy and light. Add cream, salt, spices. Soak bread a few pieces at a time so that they absorb egg-cream mixture thoroughly. Preheat oven to 400 degrees. In a skillet heat 1/2 cup cooking oil. Fry bread on both sides to a golden brown. Drain on paper towel. Place on baking sheet and allow to bake in oven for 3-5 minutes our until puffed. Serve with warm maple syrup.

Cheese Strata
Submitted by: Brenda
16 slices white bread
8 ounces cheddar cheese, grated
1 medium onion, finely chopped
Green chilies and green pepper to taste
6 eggs
4 cups milk
Salt and pepper to taste

Remove bread crusts; butter one side of bread and arrange 8 slices, buttered side up, in greased casserole dish. Sprinkle with onion, green pepper, green chilies and cheese. Place last 8 slices of bread, buttered side up on top. Combine remaining ingredients and pour slowly over bread. Cover with foil and refrigerate over night. Remove foil, place casserole dish in pan of hot water. Bake 1 hour at 350 degrees. Serves 8-10

Prepare Ahead Sausage Souffle
Submitted by: Brenda
8 slices white bread, diced
2 cups cheddar cheese, grated
1 1/2 pounds cooked sausage
2 3/4 cups milk
1 can cream of mushroom soup
3/4 teaspoon dry mustard
Large can of mushrooms (or fresh)

Spread bread in bottom of greased 9x13 baking dish. Sprinkle cheese over top. Arrange sausage and mushrooms on top of cheese. Beat eggs with 2 1/4 cup of milk; pour over bread. Mix soup, remaining 1/2 cup of milk and mustard; spoon on top of casserole. Cover tightly and refrigerate overnight. Place in cold oven, then set oven at 300 degrees and bake about 1 1/2 hours, or until puffy and brown. Serves 8-10

To submit your favorite recipes to be included in the Garden of Friendship Recipe Book, please email them to Barbiel
Background graphics made especially for the Recipes Committee of the Garden of Friendship by Valatine