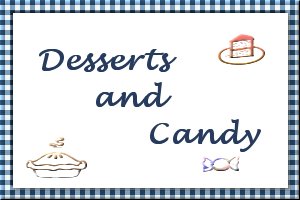 Autumn Apple Cake
Submitted by: Barbiel
3 eggs
1 3/4 cups sugar
1 cup oil
2 cups flour
1 teaspoon cinnamon
1 teaspoon baking soda
1 teaspoon salt
1 teaspoon Vanilla
2 cups sliced apples (peeled and cored)
1 cup walnuts or pecans
Beat eggs and sugar together. Add oil a little at a time. Mix dry ingredients together and add to first mixture. Add Vanilla. Fold in apples and nuts. Pour batter into a greased and floured bundt pan. Bake at 350°F for 40 to 50 minutes. Cool on wire rack for 15 minutes. Transfer cake to plate and sprinkle powdered sugar on top.

Low-Fat Moist Carrot Cake
Submitted by: Barbiel
Recipe by: DeliaOnline
6 oz (175 g) dark brown soft sugar, sifted
2 large eggs at room temperature
4 fl oz (120 ml) sunflower oil
7 oz (200 g) wholemeal self-raising flour
1 1/2 teaspoons bicarbonate of soda
3 rounded teaspoons mixed spice
grated zest 1 orange
7 oz (200 g) carrots, peeled and coarsely grated
6 oz (175 g) sultanas
Topping:
9 oz (250 g) Quark (skimmed-milk soft cheese)
3/4 oz (20 g) caster sugar
2 teaspoons Vanilla extract
1 rounded teaspoon ground cinnamon, plus a little extra for dusting
Syrup Glaze:
juice 1/2 small orange
1 dessertspoon lemon juice
11/2 oz (40 g) dark brown soft sugar
You will also need a non-stick oblong cake tin measuring 61/2 x 10 inches (16 x 25.5 cm), top measurement 7 x 101/2 inches (18 x 26.5 cm),11/2 inches (4 cm) deep, the base lined with silicone paper (parchment).
Pre-heat the oven to gas mark 3, 325°F (170°C).

Begin by whisking the 6 oz (175 g) sugar, eggs and oil together in a bowl using an electric hand whisk for 2-3 minutes. Then sift together the flour, bicarbonate of soda and the mixed spice into the bowl, tipping in all the bits of bran that are left in the sieve. Now stir all this together, then fold in the orange zest, carrots and sultanas. After that pour the mixture into the prepared tin and bake on the centre shelf of the oven for 35-40 minutes, until it is well risen and feels firm and springy to the touch when lightly pressed in the centre.

While the cake is cooking, make the topping by mixing all the ingredients in a bowl until light and fluffy, then cover with clingfilm and chill for 1-2 hours or until needed. Now you need to make the syrup glaze, and to do this whisk together the fruit juices and sugar in a bowl. Then, when the cake comes out of the oven, stab it all over with a skewer and quickly spoon the syrup over as evenly as possible. Now leave the cake on one side to cool in the tin, during which time the syrup will be absorbed. Then, when the cake is completely cold, remove it from the tin, spread the topping over, cut it into 12 squares and dust with a little more cinnamon. Serves 12.

Dark Chocolate Cake
Submitted by: Praying Bear
1 (515 g) box Devil's Food cake mix
1 1/4 cups water
1/3 cup canola oil
3 large eggs
2 tablespoons cocoa powder
2 tablespoons dark brown sugar
3 tablespoons dark molasses
Frosting your preference
Place the two layer size packaged devils food cake mix in a large mixer bowl, and sift out lumps. Add all other ingredients into bowl, and beat well, until combined and thick. Bake in greased cake pans at 350°F preheated oven. Bake for 25 minutes or until toothpick or tester comes away clean. Cool ten minutes, invert onto cooling rack. Fill and frost with your favourite frosting.

To submit your favorite recipes to be included in the Garden of Friendship Recipe Book, please email them to Barbiel
Background graphics made especially for the Recipes Committee of the Garden of Friendship by Valatine