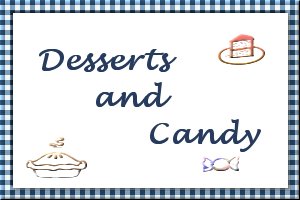 Mint Cake
Submitted by: Praying Bear
Cake:
1/2 cup margarine, softened
1 cup sugar
4 eggs
1 teaspoon Vanilla
16 oz Hershey's chocolate syrup
1 cup + 1 tablespoon flour
1/4 teaspoon salt
Topping 1:
1/2 cup margarine, softened
2 tablespoons milk
2 cups powdered sugar
3/4 teaspoon Mint extract
2 drops Green food coloring
Topping 2:
6 tablespoons margarine
1 cup Chocolate chips
Preheat oven to 350°F. Cream together margarine, salt and sugar. Add eggs, Vanilla and chocolate syrup. Blend in flour. Pour into ungreased 9x13" pan. Bake for 30 minutes. Cool completely. Combine ingredients for Topping 1. Spread over cake. Refrigerate until cool. Melt margarine and Chocolate chips for Topping 2. Cool to room temperature. Spread over green layer. Refrigerate.

Espresso-Hazelnut Cheesecake
Submitted by: Praying Bear
8 1/2 oz butter biscuit cookies
1/2 cup hazelnuts, toasted and husked
2 tablespoons sugar
1 teaspoon cinnamon, ground
5 tablespoons unsalted butter, melted
2 lb Cream cheese, room temperature
1 1/4 cups sugar
4 large eggs
1 cup Sour cream
1/2 cup Whipping cream, chilled
2/3 cup Whipping cream, chilled
3 tablespoons instant espresso powder
2 tablespoons water, warmed
2 teaspoons Vanilla extract
3/4 cups Hazelnuts, dry-roasted
coarsely chopped Chocolate covered espresso beans for garnish
Crust: Preheat oven to 350°F. Generously butter bottom and sides of 9" diameter springform pan with 2 3/4" high sides. Wrap outside of pan with double layer of foil. Finely grind cookies, hazelnuts, sugar and cinnamon in processor. Add butter and process until moist clumps form. Press crumb mixture onto bottom and up sides of pan. Chill while preparing Filling.
Filling: Using electric mixer, beat cream cheese in large bowl until smooth. Add sugar and beat until well blended. Add eggs 1 at a time, beating just until blended and scraping down sides of bowl after each addition. Beat in Sour cream and 1/2 cup cream. Stir espresso powder and 2 tablespoons warm water in small bowl until powder dissolves. Add to filling and beat until blended. Beat in Vanilla. Stir in nuts. Pour Filling into prepared pan. Place pan in large baking pan. Pour enough hot water into baking pan to come halfway up the sides of the springform pan.
Bake cake until top is puffed and centre is almost set, about 1 1/4 hours. Turn off oven. Open door slightly . Let cake stand in oven with door ajar 1 hour. Remove pan from water and transfer to rack. Cool. Wrap in foil and chill overnight (can be made 3 days in advance). Run small knife around sides of pan to loosen cheesecake. Remove pan sides. Beat 2/3 cup cream until stiff peaks form, using a large star tipped bag, pipe around top edge. Decorate with espresso beans.

Supreme Chocolate Saucepan Brownies
Submitted by: Lily
1 cup (2 sticks) butter or margarine
2 cups sugar
1/2 cup HERSHEY'S Cocoa
4 eggs, beaten
2/3 cup all-purpose flour
1/2 teaspoon salt
1/4 teaspoon baking soda
2 teaspoons Vanilla extract
2 cups (12-oz. pkg.) HERSHEY'S special dark Chocolate Chips
or
HERSHEY'S Semi-Sweet Chocolate Chips
1/2 cup MAUNA LOA Macadamia Baking Pieces
Heat oven to 350°F. Grease 13x9x2-inch baking pan. Melt butter in medium saucepan over low heat. Add sugar and cocoa. Stir to blend. Remove from heat. Stir in eggs. Stir together flour, salt and baking soda. Stir into chocolate mixture. Stir in Vanilla, chocolate chips and nuts. Spread in prepared pan. Bake 30 to 35 minutes or until brownies begin to pull away from sides of pan and begin to crack slightly (do not underbake). Cool completely in pan on wire rack. Cut into bars. About 24 brownies.

To submit your favorite recipes to be included in the Garden of Friendship Recipe Book, please email them to Barbiel
Background graphics made especially for the Recipes Committee of the Garden of Friendship by Valatine