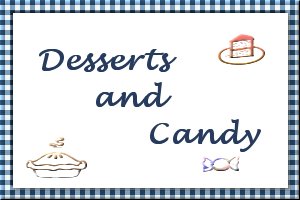 Lemon Cheesecake
Submitted by: Kitty
Crust:
2 cups flour
1 cup chopped almonds
1 cup margarine
2nd Step:
1 8-ounce package cream cheese
1 cup powdered sugar
1 cup whipped topping
3rd Step:
1 package lemon pie filling (not instant)
2 eggs yolks
Crust: Mix ingredients well and press into 12" springform pan.
2nd Step: Cream the cheese, add the powdered sugar. Fold in the prepared whipped topping. Spread over the crust.
3rd Step: Prepare pie filling, with 2 egg yolks. Allow to cool,and pour over the cheese layer.
4th Step: Spread 1 1/2 cup whipped topping over the lemon layer. Garnish with sliced almonds. Allow to set in fridge for at least 3 hours.
Serve to 8-10 enlightened guests.

Mini Cherry Cheesecakes
Submitted by: Aileen W.
24 small vanilla wafers
2 8-ounce packages cream cheese
3/4 cup sugar
2 eggs
1 tablespoon lemon juice
1 tablespoon vanilla extract
1/2 teaspoon almond extract
1 21-ounce can cherry pie filling
3 drops red food coloring, optional

Line 24 small muffin tins with petit four size paper muffin cups. Place a vanilla wafer in each cup. Beat cream cheese with sugar, eggs, lemon juice and vanilla, whipping until very light and fluffy. Fill the cups 3/4 full with mixture. Bake at 350°F for 15 to 20 minutes, or until set. Stir almond extract into cherry pie filling, add food coloring if desired. Spoon 1 tablespoon onto each cup and chill. Makes 24.

Sugar Free No Bake Cheesecake
Submitted by: Bonnie
1 ready made graham cracker crust
2 packages neufatchel cream cheese, (softened)
1/3 cup nutrasweet or splenda sugar (granulated type)
1 container of cool whip lite or regular, thawed
In bowl with mixer beat the cream cheese and sugar until smooth. Blend in gently the container of cool whip. Fill graham cracker crust (optional: spread top with low sugar strawberry jam). Refrigerate at least 3 hours before serving.
Note: Cake can be frozen. This recipe can be modified with regular sugar if desired.
To submit your favorite recipes to be included in the Garden of Friendship Recipe Book, please email them to Barbiel
Background graphics made especially for the Recipes Committee of the Garden of Friendship by Valatine