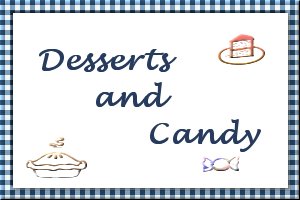 Easy Chocolate Praline Cake
Submitted by: VickiB
1 stick butter
1 cup packed brown sugar
1/3 cup whipping cream
1 package chocolate cake mix
1 cup chopped pecans

Melt butter and pour into a 9x13 pan. Sprinkle brown sugar, cream and the pecans over the butter in pan. Mix the cake according to directions. Spoon the batter on top of the pecan mixture. Bake for 30 minutes at 350°F. Cool for ten minutes. Serve with ice cream or whipped topping.

Pineapple-Upside Down Cake
Submitted by: VickiB
8 tablespoons butter
1/2 cup dark brown sugar
5 pineapple slices, canned, drained
1/2 cup milk
1 egg, lightly beaten
1 1/4 cups flour
2 teaspoons baking powder
1/2 cup sugar
1 teaspoon vanilla

Preheat the oven to 375°F. Melt 1/2 of the butter in a heavy cast iron skillet. Add the brown sugar and stir well. Whisk in 2 teaspoons of water. Remove from the heat and add a single layer of pineapple slices. Set aside. Melt the rest of the butter. Whisk in the milk, egg, and vanilla. Combine the flour, sugar, and baking powder in a separate mixing bowl. Beat the milk mixture into your flour mixture until a smooth batter forms. Pour over the pineapple in the skillet. Bake for 30-35 minutes or until the center is firm. Allow to cool for 10 minutes. Invert the pan onto a serving plate. Serve warm or at room temperature.

Sour Cream Pound Cake
Submitted by: VickiB
4 ounces butter, softened
3 cups sugar
4 eggs
2 cups flour
1/2 teaspoon baking powder
1/2 cup sour cream
1 teaspoon vanilla extract

Place the butter and sugar in a mixer. Cream until smooth. Add the eggs - one at a time with the mixer running. In a separate bowl, sift together the flour and baking powder. Blend well into the mixture. Add the sour cream and vanilla and mix until blended. Pre-heat the oven to 325°F. Grease and flour a bread pan. Pour in the batter. Bake for 55-60 minutes. Allow to cool before serving.
To submit your favorite recipes to be included in the Garden of Friendship Recipe Book, please email them to Barbiel
Background graphics made especially for the Recipes Committee of the Garden of Friendship by Valatine