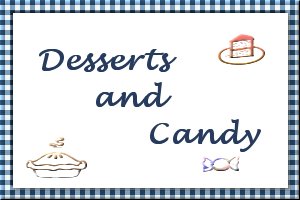 Carrot Cake
Submitted by: Brenda
2 cups sugar
2 cups flour
2 teaspoons baking soda
2 teaspoons cinnamon
4 eggs, beaten
1 8-ounce can crushed pineapple w/juice
1 1/2 cups vegetable oil
2 teaspoons vanilla
1 teaspoon salt
1 cup flaked coconut
2 cups grated carrots
1 cup chopped pecans
1 cup golden raisins
Preheat oven to 350°F. Sift sugar, flour, baking soad and cinnamon together in large bowl. Combine next 5 ingredients in large bowl; mix well. Stir in coconut, carrots and pecans. Add dry ingredients; mix well. Pour into three 8-inch cake pans lined with waxed paper (regular loaf pan works well too). Bake for 40-45 minutes.
Cream Cheese Icing:
8 ounces cream cheese, softened
1/2 cup butter or margerine
1 pound powdered sugar
1 teaspoon vanilla
2 teaspoons orange juice
1 tablespoon grated orange rind
Combine icing ingredients and beat until smooth and creamy. Spread on cake.

French Applesauce Cake
Submitted by: Wolfmama
2 cups flour
1 to 1 1/2 cups sugar
1 teaspoon baking soda
1 teaspoon cinnamon
1/2 teaspoon nutmeg
1/2 teaspoon salt
1/2 teaspoon cloves
3 tablespoons cocoa
1 tablespoon cornstarch
1/2 cup oil
2 cups applesauce
1 cup nuts, optional
1 cup raisins, optional

Combine first 9 ingredients in large bowl. Heat applesauce in oil and add to dry ingredients. If desired add nuts and raisins. Mix thoroughly. Pour into tube pan which has been greased and floured. Bake one hour at 325°F.

Pineapple Cream Cake
Submitted by: Sugie
4 cups vanilla wafer cookies, crumbled
2 8-ounce cans crushed pineapple, drained
3 tablespoons butter, melted
1/3 cup walnuts, chopped
1/3 cup sugar
3 ounces cream cheese, softened
1 teaspoon vanilla
whipped topping (optional)
Sprinkle 1/3 of cookie crumbs along the bottom of a one quart dish. Combine pineapple and next 5 ingredients and mix well. Place one half of this mixture over cookie crumbs followed by second third of cookie crumbs. Repeat this step and chill for several hours. Top with whipped topping (potional) just before serving.
To submit your favorite recipes to be included in the Garden of Friendship Recipe Book, please email them to Barbiel
Background graphics made especially for the Recipes Committee of the Garden of Friendship by Valatine