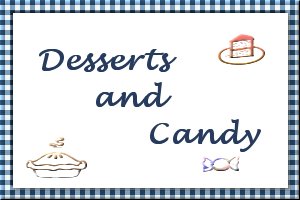 Ugglemor's Mummy Rhubarb Cake
Submitted by: Ugglemor
1 1/2 cups rhubarb cubes
2 teaspoons ginger powder
100 g butter (or margarine)
200 ml white sugar
1 egg
400 g all-purpose flour
2 teaspoons baking powder
150 ml milk
Peel and cut the rhubarb into small cubes. Put the cubes in a bowl and mix with ginger powder. Stir butter (margarine) and sugar white and fluffy Add the egg and the flour mixed with the baking powder. Add the milk and at last the rhubarb cubes. Put the batter into a greased tin and baked the cake in oven 175°C (325°/350°F) for about 45 minutes. Tip out the cake and serve lukewarm or cold, with whipped cream or custard or vanilla ice cream.

Granny's Strawberry Birthday Cake
Submitted by: Ugglemor

Photo courtesy: Ugglemor

3 eggs
300 gr white sugar

300 gr all purpose flour

1 teaspoon baking powder
100 ml boiling water

Filling and Topping:

1 american cup of cream

circa 1 kg of strawberries

white sugar

Beat egg an sugar until white and fluffy. Add flour mixed with baking powder. Finish with the hot water. Put in greased and crumbsprinkled baking pan. Bake in medium hot oven 200-225°C (400-425°F) for about 25 minutes. Be careful, it easily turns black on the outside. Cut the cooled cake in three bottoms. Put strawberries mashed with sugar on each layer. It is good if it can stay and sap for a while before covering with whipped cream. Cover with strawberries, whole or devided, over the whole top and around the edge of the plate.
Note from Ugglemor: Serve with coffee. Have a nice birthday party!

Mashed Potato Cake
Submitted by: Lady Lynda
1 cup butter
2 cups sugar
4 eggs, separated
1/2 cup cocoa or semi sweet chocolate, grated
1 teaspoon cinnamon
1/3 teaspoon nutmeg
2 cups chopped pecans
1 cup mashed potatoes, cooked and mashed just before making cake
2 1/4 cups cake flour
2 teaspoons baking powder
1/2 cup milk
1 teaspoon Vanilla
Cream butter and sugar until fluffy. Add egg yolks, then add cocoa, cinnamon, nutmeg, nuts and potatoes. Add flour and baking powder that have been sifted together, alternately with milk, add Vanilla. Last, fold in stiffly beaten egg whites. Bake in tube pan at 350°F until cake leaves the side of the pan, approximately 1 to 1 1/2 hours. Note: Can serve without icing, or can glaze with sugar glaze.

To submit your favorite recipes to be included in the Garden of Friendship Recipe Book, please email them to Barbiel
Background graphics made especially for the Recipes Committee of the Garden of Friendship by Valatine