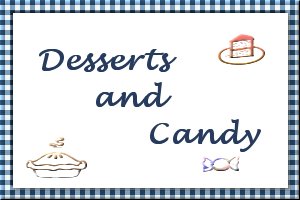 Angel Food Candy
Submitted by: Jamie
1 cup sugar
1 cup dark corn syrup
1 tablespoon vinegar
1 tablespoon baking soda
1 pound chocolate almond bark, melted
dash of salt
In a heavy saucepan, combine sugar, corn syrup, dash of salt and vinegar. Cook over medium heat, stirring constantly, until sugar dissolves. Cook without stirring until the temperature reaches 300°F (hard crack stage) on a candy thermometer. Do not overcook. Remove from heat and quickly stir in baking soda. Pour inot a buttered 13 x 9 x 2-inch baking pan. Do not spread candy; mixture will not fill pan. When cool, break into bite-sized peices. Dip into melted chocolate. Place on waxed paper until the chocolate is firm. Store candy tightly covered. Yield: 1 to 1-1/2 pounds.

Cherry Candy
Submitted by: Barbiel
drained maraschino cherries
(sliced in half and cut in 5 pieces)
2 lbs powdered sugar
1/2 1 cup margarine, melted
1 cup coconut
1 cup finely crushed walnuts
1 dash salt
1 dash vanilla
Chocolate Topping
(recipe below)
Work together until dough is tight. Chill for 2 hours. Make walnut size balls and wrap around the pieces of cherries. Chill them for at least 2 hours more. Cover with Chocolate Topping before serving.
Chocolate Topping
3/4 package paraffin wax
1 semisweet chocolate bar
1 package chocolate chips
Slowly melt over hot water. Mix well. Dip balls in chocolate, place walnut in center and let cool.

Cranberry Candy
Submitted by: Barbiel
1 can jellied sieved cranberry sauce
1 cup sugar
2/3 cup coarsely chopped nuts
2 (3 ounce) packages orange Jell-O
or
2 (3 ounce) packages red Jell-O
Beat sugar and crandberry sauce together in sauce pan. Melt and bring to a boil over moderate heat and add jello. Stir untill dissolved. Add nuts. Pour into lightly oiled 9x5x3 pan. Refrigerate untill firm. Cut into small 1 to 1 1/2 pieces and roll in granulated sugar. Let stand at room temperature to dry. After 24 hours sugar again. Makes 50 candies.
Note: You may add 1 1/2 package knox gelatin for stiffer candy.
To submit your favorite recipes to be included in the Garden of Friendship Recipe Book, please email them to Barbiel
Background graphics made especially for the Recipes Committee of the Garden of Friendship by Valatine