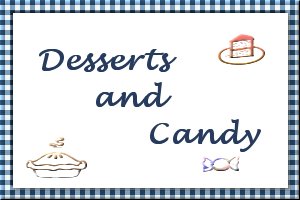 5 Minute Fudge
Submitted by: Jezebel Jen
2/3 cup evaporated milk
1 2/3 cup granulated sugar
1/2 teaspoon salt
1 3/4 cups mini marshmallows
1 1/2 cups semi-sweet chocolate chips
1 teaspoon vanilla
1/2 cup nuts (optional)

Combine evaporated milk, sugar and salt in a medium saucepan and boil for 5 minutes. Add balance of ingredients and stir until all melted. Pour into an ungreased 9 inch pan. Chill until set, about 2 hours.

Candied Orange Slices
Submitted by: Kitty
6-8 navel oranges, cut into slices
1/3 cup brown sugar
1 teaspoon ground cinnamon
1/4 teaspoon ground nutmeg
Combine sugar, cinnamon, and nutmeg and sprinkle over top of oranges. Let stand a few minutes before serving. This makes a delicious, light dessert.

Pecan Pralines
Submitted by: Brenda
2 cups sugar
1 cup brown sugar
1 stick butter
1 cup evaporated milk
2 tablespoons corn syrup
1 cup pecan halves
Put all ingredients except pecans into a sauce pan and cook for about 20 minutes. After the mixture starts to boil stir occassionally. Add the pecans and cook the mixture until liquid forms a soft ball when dropped in cold water. Stir and pour onto waxed paper.
To submit your favorite recipes to be included in the Garden of Friendship Recipe Book, please email them to Barbiel
Background graphics made especially for the Recipes Committee of the Garden of Friendship by Valatine