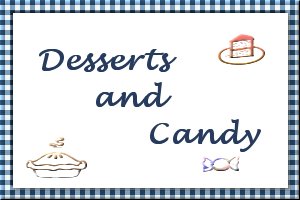 Champagne Truffles
Submitted by: Barbiel
6 ounces semisweet chocolate, coarsely chopped
1/4 cup butter, cut into small pieces
(please use no substitutes)
3 tablespoons whipping cream
1 beaten egg yolk
3 tablespoons champagne or whipping cream
1/4 cup unsweetened cocoa powder, sifted powdered sugar (or small white decorative candies)
Combine semisweet chocolate, butter, and the 3 tablespoons whipping cream in a heavy, medium saucepan. Cook and stir over low heat until chocolate is melted, stirring constantly. Gradually stir about half of the hot mixture into the egg yolk, Return entire mixture to the saucepan.Cook and stir over medium heat for 2 minutes. Remove from heat. Stir in champagne or 3 tablespoons whipping cream. Transfer truffle mixture to a medium mixing bowl; chill about 1 hour or until mixture is completely cool and smooth, stirring occasionally. Beat cooled truffle mixture with an electric mixer on medium speed about 1 minute or until color lightens and mixture is slightly fluffy. Chill about 30 minutes more or until mixture holds its shape. Scrape a small ice cream scoop, melon baller, or spoon across the surface of the cold truffle mixture, forming 1-inch balls. Place balls on a baking sheet lined with waxed paper. Refrigerate until very firm. Gently roll balls in unsweetened cocoa powder, sifted powdered sugar, or small white decorative candies until evenly coated, reshaping as necessary. If desired, serve in decorative foil candy cups. Yields: 25 to 30 truffles.
Note: Prepare trufles as directed and store tightly covered in the refrigerator up to 2 weeks.

Cinnamon Candy
Submitted by: Barbiel
1 cup white sugar
1 cup corn syrup
1 cup water
1/4 teaspoon cinnamon oil
1/4 teaspoon red food coloring
some white pepper powder
Combine sugar, syrup, and water in a sauce pan. Boil without stirring over med-high heat until it reaches hard crack stage. Use a thermometer or very cold water. I use the cold water. When you put about a teaspoon in the cold water and let it sit for 10 or 15 seconds you can take it out and it will break with a snap. Towards the end of the cooking time the mixture will thicken considerably and turn a yellowish color. It is essential to watch the pot at this point because it will burn easily and quickly. You may also stir it at this point to prevent scorching. When done, remove from heat and quickly stir in the oil and coloring. Pour into a 9 x 9 metal pan that has been lined with about 1/4 to 1/3 inch of powdered sugar. Let cool until the edges start to firm up and then immediately begin to cut the pieces from around the edges. Keep cutting around the edges as the candy hardens.
Note: Cutting takes practice because the candy can harden quickly. Some just let it get rock hard and break it with a mallet but this makes it harder to control the size of the pieces and also the pieces have sharp edges that can cut one's mouth.

Rum Balls
Submitted by: Barbiel
3 cups ground vanilla wafer (1 1/2 box)
1 cup ground nut meats (walnut, pecan, etc)
2 cups powdered sugar
3 tablespoons corn syrup
1 1/2 tablespoons cocoa
1/2 cup Rum
Mix well. Mold into balls using a melon baller. Dust with powdered sugar and store in an airtight container.
Note: If desrired you may use Whiskey or Brandy instead of Rum.

To submit your favorite recipes to be included in the Garden of Friendship Recipe Book, please email them to Barbiel
Background graphics made especially for the Recipes Committee of the Garden of Friendship by Valatine