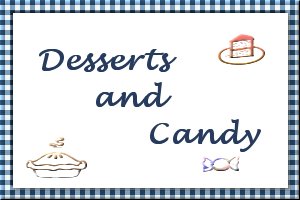 2 Minute Fudge
Submitted by: Vadi
1 pound powdered sugar
1/2 cup cocoa
1/4 teaspoon salt
1/4 cup milk
1 tablespoon Vanilla extract
1/2 cup butter
1 cup nuts, chopped
In a 1 1/2 qt. casserole, stir sugar, cocoa, salt, milk and Vanilla together until partially blended (it will be too stiff to blend thoroughly). Put butter over top in center of dish. Microwave at high for 2 minutes, or until smooth. If all butter has not melted in cooking, it will as mixture is stirred. Blend in nuts. Pour into a lightly-buttered 8x4x3" dish. Chill 1 hour in refrigerator or 20 to 30 minutes in freezer. Cut into squares. Makes about 36 squares.

Cashew Brittle
Submitted by: Vadi
3 cups sugar
1 cup light corn syrup
1/2 cup water
2 cups cashew halves
1 1/2 tablespoons butter
1 1/2 teaspoon Vanilla
Place sugar, water and corn syrup in a sauce pan. Stir over medium high heat to dissolve sugar. Continue cooking, without stirring, until mixture reaches 280°F on a candy thermometer. Add cashews. Continue cooking until mixture reaches 300°F (hard crack stage). Remove from heat and add Vanilla and butter. Stir to mix well. Pour onto greased baking pan. When cool, break into pieces. Makes about 2 lbs of candy. Yield: 48 servings.

Almond Roca
Submitted by: Vadi
2 cups (1 pound) butter
2 cups sugar
1/2 cup whole almonds
1 large package chocolate chips
1/2 cup walnuts ground in a blender
dash of salt
Melt butter over high heat. Add sugar, stirring until it foams up well. Continue over high heat, adding almonds. Continue to cook, stirring continually until mixture is color of mahogany and sugar is all melted (take it off the heat for a moment if it starts to smoke).
Stir as you take it off the heat permanently and pour quickly onto your biggest flat pan with sides. Tilt to spread evenly. After 5 minutes, pour on chocolate chips. When they have melted a bit, spread them over the top of the hot mixture with a rubber scraper. Scatter ground walnuts over the top, shaking to distribute evenly. Break into pieces and it's ready to eat. Makes 6 servings.
Note: Candy is thoroughly cooled when the chocolate is dull looking (cool at least three hours at room temperature).

To submit your favorite recipes to be included in the Garden of Friendship Recipe Book, please email them to Barbiel
Background graphics made especially for the Recipes Committee of the Garden of Friendship by Valatine