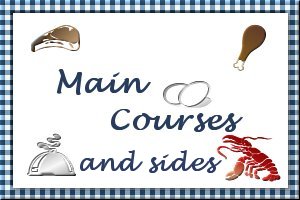 Macaroni and Cheese
Submitted by: Jezebel Jen
1 pound box elbow macaroni, uncooked
1/2 cup butter
1/2 cup flour
5 cups milk
1 pound white American cheese
salt and pepper to taste
Heat oven to 350°F. Cook pasta according to package directions; drain. In large saucepan over medium heat, melt butter. Blend in flour, salt and pepper. Allow this mixture to bubble and lightly brown while continually stirring. Gradually add milk. Cook stirring constantly, until sauce thickens and mixture begins to boil. Add cheese one slice at a time while stirring, until all cheese is added and melted. In a 3-quart casserole dish, stir together pasta and cheese sauce. Bake 30 minutes or until bubbly. Put under broiler for a few minutes if you like the top golden brown. Makes 8-10 servings.

Stuffing with Bacon and Mushrooms
Submitted by: Claudia
1-1/4 pounds sourdough bread,crusts removed, cut into 1/2-inch cubes
3 cups chopped leeks, white and pale green parts only
1 pound mushrooms, sliced
2 teaspoons dried thyme
3/4 teaspoon ground black pepper
2 large eggs
3/4 pound bacon, cut into 1/2-inch pieces
3 cups chopped celery
1 1/2 tablespoons dried sage
1 teaspoon salt
1 1/2 teaspoons baking powder
Preheat oven to 325°F. Spread bread cubes on 2 baking sheets. Bake until bread cubes are dry and crisp, stirring occasionally, about 25 minutes. Transfer bread to large bowl. Sauté bacon in heavy large skillet over medium-high heat until brown and crisp. Using slotted spoon, transfer bacon to paper towels and drain. Pour off all but 1/4 cup drippings from skillet. Add chopped leeks and celery to skillet and sauté until tender and beginning to brown, about 10 minutes. Add mushrooms, sage, thyme, salt, and pepper and sauté until tender, about 10 minutes. Pour mushroom mixture over bread cubes. Add bacon and toss to blend. Mix in 2 cups broth. (Stuffing can be prepared 1 day ahead. Cover and refrigerate.) Preheat oven to 350 degrees. Butter 13- x 9- x 2-inch glass baking dish. Beat eggs and baking powder in small bowl to blend. Mix eggs into stuffing; moisten stuffing with more broth if stuffing is dry. Transfer to prepared baking dish. Bake stuffing until cooked through and golden brown on top, about 1 hour. Yield: 12 servings. .

Calamari Festival Style
Submitted by: Barbiel
3 lbs calamari, (squid) cleaned and cut
1/3 cup olive oil
1/4 cup white sherry
1 tablespoon crushed fresh garlic
1/2 lemon
1 teaspoon dry basil or 1 tablespoon fresh
1 teaspoon dry oregano or 1 tablespoon fresh
1/4 teaspoon dry crushed red pepper
Red Sauce (below)
In large skillet heat olive oil at high heat. Add sherry wine and saute crushed garlic. [This procedure will flame up!] Indoors , add wine and lemon juice after calamari has been sauted. Squeeze the juice of 1/2 lemon into the pan and place the lemon rind in the pan. Sprinkle herbs over and add calamari. Saute calamari for approximately 2 minutes on high heat. Do not over-cook! Serves 4.
Red Sauce
1 lb whole, peeled tomatoes, canned or fresh
1 tablespoon olive oil
1/2 green pepper chopped
1 stalk celery, chopped
1 medium-sized yellow onion, chopped
3 cloves fresh garlic, minced
Mash tomatoes with potato masher and set aside. In medium-size pan heat oil, add chopped ingredients and saute until onion is transparent. Add mashed tomatoes and simmer for 1/2 hour. Pour red sauce over calamari and heat for 1 minute.

To submit your favorite recipes to be included in the Garden of Friendship Recipe Book, please email them to Barbiel
Background graphics made especially for the Recipes Committee of the Garden of Friendship by Valatine