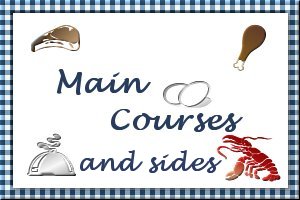 Bayside Enchiladas
Submitted by: Debbii
1/2 pound fresh or frozen medium shrimp
1 8-ounce carton sour cream
2 cups shredded Monterey Jack cheese
1/4 cup cottage cheese
2 tablespoons grated Parmesan cheese

1/4 cup sliced ripe olives
1/2 pound fresh or frozen bay scallops
1/2 cup salsa
6, 8-inch flour tortillas
1/4 cup milk
1/4 cup chopped green onions
Thaw shrimp and scallops, if frozen. Peel and devein shrimp. Rinse shrimp and scallops; pat dry with paper towels. Set aside. In a small bowl, combine sour cream and salsa. Stir in shrimp, scallops, and half of the Monterey Jack cheese. Spread about 1/3 cup of the shrimp mixture onto each tortilla near an edge; roll up. Place filled tortillas, seam sides down, in a 3-quart rectangular baking dish; set aside. In a blender container or food processor bowl, combine cottage cheese, milk, and Parmesan cheese. Cover and blend or process until almost smooth. Spoon mixture over prepared enchiladas. Sprinkle with onions and ripe olives. Bake, uncovered, in a 350 degree oven for 25 minutes. Sprinkle with remaining Monterey Jack cheese. Bake about 5 minutes more or until cheese melts. Makes 6 servings. Note:Cape Cod cooks would use the prized East Coast bay scallops to make these luscious cheese-sauced enchiladas. But if you can't find bay scallops in your area, use quartered sea scallops instead. Prep: 30 min. Baking: 30 min.

Chicken and Stuffing Casserole
Submitted by: Brenda
1 chicken, boiled
Save 1/2 cup broth
1 can cream of mushroom soup
1 can cream of chicken soup
1 1/2 cups milk
8-ounce package Chicken flavored Stove Top Stuffing
1 stick oleo
Combine soups and milk; heat thoroughly. Combine stuffing mix, melted oleo and chicken. Pour into casserole dish. Pour soup mixture over this and bake uncovered. 350 degrees for 30 minutes.

Texas Lasagna
Submitted by: Brenda
1 1/2 pounds lean ground beef
1 4-ounce can diced green chilies
1 8-ounce can tomato sauce
1 15-ounce can diced tomatoes
1 15-ounce can corn
1 packet taco seasoning mix
16 ounces cottage cheese
2 eggs
4 cups shredded Jack and Cheddar cheese(mixed)
10-12 corn torillias, torn into strips
Brown meat in skillet, to which garlic powder and chopped onion can be added to taste. Add the chilies, tomato sauce, tomatoes, corn and seasoning mix. Simmer for 20 minutes. In a seperate bowl, combine cottage cheese and eggs; set aside. Spray a 9x13 casserole dish with nonstick spray. Layer half the meat mixture, half the tortillias, half the cottage cheese mixture, half the cheese. repeat layers. Bake for 30 minutes at 350 degrees. Serves 6-8.

To submit your favorite recipes to be included in the Garden of Friendship Recipe Book, please email them to Barbiel
Background graphics made especially for the Recipes Committee of the Garden of Friendship by Valatine