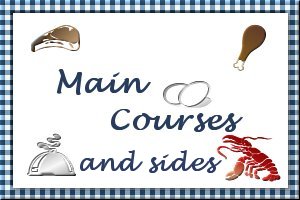 Adobo with Garlic Fried Rice
Submitted by: Luisa
2 pounds pork or chicken, cut into chunks
1 cup vinegar
1 head garlic, crushed
1/2 cup soy sauce
1/2 cup water
1 teaspoon peppercorns
1 tablespoon oil
Garlic Fried Rice:
4 tablespoons Olive oil
1 head garlic, crushed finely
4 cups cooked rice,
Refrigerated overnight
Salt to taste

Adobo: Wash pork or chicken meat; place in a cooking pan, and mix in other ingredients. Cover the pan and bring mixture to the boil, using medium heat. Once boiling, stir mixture to separate meat pieces. Lower heat, cook until meat is tender, stirring mixture once or twice. When meat is tender and there is 'excess' liquid left, transfer meat to a container and allow excess liquid in the pan to 'evaporate' by turning up the heat. Once liquid is almost dried up, put back the meat in the pan and allow to 'fry' in its own fat, stirring lightly. Serve hot with garlic-fried rice and tomato slices.
Garlic Fried Rice: Place rice in a wide container and separate grains using your hands. In a non-stick frying pan, heat oil over medium-hot heat and fry garlic until brown. Add rice and mix thoroughly until rice is evenly cooked. Season with salt to taste. Serve hot.

Antipasto Quiche
Submitted by: Luisa
1 deep-dish, frozen piecrust
4 eggs
1 1/2 cups Half-and-half
1 cup provolone cheese, grated
2 ounces prosciutto ham, diced
1 tablespoon black olives, minced
1 1/2 tablespoon roasted red bell peppers (jar type) drained and chopped
Salt and pepper to taste

Pre-heat the oven to 375 degrees. Place the pie shell on a cookie sheet and bake empty for 5 minutes. Spread the cheese in the bottom of the crust. Lightly beat the eggs. Whisk in the half-and-half. Stir in the remaining ingredients and pour into the pie shell. Bake for 25-35 minutes or until firm in the center. Serves 4-6.

Tamale Pie
Submitted by: Sugie
1 pound lean ground beef
2 cloves garlic, minced
1 onion, chopped
1 15-ounce can tomatoes
1 15-ounce can corn, drained
1 teaspoon cumin
2 tablespoons chili powder
1 cup black olives, sliced
3/4 cup cornmeal
1 1/4 cup milk
1 egg
1/4 cup sugar
1 cup cheddar cheese, shredded

Brown ground beef, onion, and garlic. Stir in tomatoes, corn, cumin, chili powder and olives and simmer for 10 minutes. Combine cornmeal, milk, egg and sugar and mix well. Pour ground beef mixture into a casserole dish followed by cornmeal mixture. Bake at 350 degrees for 45minutes. Top with cheese and bake at 350 degrees for an additional 15 minutes.
The Skinny: Use low fat milk and cheese and your favorite sugar substitute.

To submit your favorite recipes to be included in the Garden of Friendship Recipe Book, please email them to Barbiel
Background graphics made especially for the Recipes Committee of the Garden of Friendship by Valatine