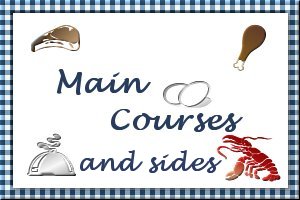 Parmesan Chicken Skillet
Submitted by: Jezebel Jen
1 pound boneless skinless chicken breasts,
cut into thin strips
1/2 teaspoon Italian seasoning
2 tablespoons butter
1 1/4 cups water
2/3 cup milk
1 cup frozen peas (drained canned will work)
1 package Pasta Roni Angel Hair Pasta
with Parmesan Cheese
1 medium tomato, chopped
Toss chicken with Italian seasoning. Sauté chicken with butter in large skillet on high heat 5 minutes or until no longer pink inside. Add 1 1/4 cups water, milk, and peas. Bring to a boil. Stir in pasta, special seasonings and tomato. Reduce heat to medium. Gently boil uncovered, 4 to 5 minutes or until pasta is tender. Let stand 3 minutes. Serves 4.

Chicken and Sausage Jambalaya
Submitted by: Jezebel Jen
2 tablespoons vegetable oil
2 cups chopped onions
1 cup chopped bell pepper
1/2 cup chopped celery
1/2 teaspoon salt
1/4 teaspoon cayenne pepper
1 pound smoked sausage, 1/4-inch slices
4 bay leaves
1 28-ounce can chopped tomatoes
1 tablespoon chopped garlic
1 pound bag white rice
1 pound cooked chopped chicken
1 cup chopped green onions
In a large saucepan, heat the vegetable oil. When the oil is hot, add the onions, peppers, and celery. Season with salt and cayenne pepper. Sauté the vegetables for about 5 minutes, or until wilted. Add the sausage and sauté for 2 minutes. Add the bay leaves, tomatoes, and garlic. Sauté for 2 minutes. Stir in the rice and sauté for 2 minutes. Add the chicken stock and chicken. Cook the jambalaya for 25 to 30 minutes, covered, or until the rice is tender and the liquid has been absorbed. Stir in the green onions. 6 servings.

Roast Chicken with Yorkshire Pudding
Submitted by: Dee
3 1/2 pound chicken
1/4 teaspoon salt
1/2 cup water
1/2 cup flour
2 eggs
1/2 cup milk
Pre-heat the oven to 375 degrees. Place the chicken on a rack and bake for 1 1/2 hours. Remove the chicken to a platter. Raise the heat to 425 degrees. Place the pan juices in an oven-ready bowl. Allow to cool slightly. Skim the fat off the top and reserve. Place the fat in the bottoms of a six-compartment muffin pan. Place in the oven (on a cookie sheet) for 10 minutes. Meanwhile, lightly beat the eggs in a mixing bowl. Whisk in the flour, water, milk, and salt. Remove the muffin pan and place the batter 2/3's of the way up the hot muffin compartments. Return to the oven and bake 20-25 minutes or until golden brown. Serve immediately with the sliced chicken and your favorite chicken gravy. Serves 4.

To submit your favorite recipes to be included in the Garden of Friendship Recipe Book, please email them to Barbiel
Background graphics made especially for the Recipes Committee of the Garden of Friendship by Valatine