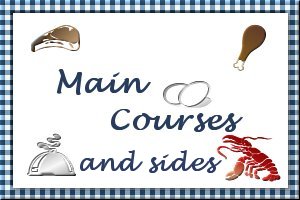 Chicken Piccata
Submitted by: Deelight
4 boneless, skinless chicken breasts
2 tablespoons olive oil
1/2 cup flour
Salt and white pepper to taste
1 cup chicken broth
1 tablespoon lemon juice
1 1/2 teaspoons cornstarch,mixed with a little cold water
1 tablespoon capers
1 tablespoons parsley, chopped
1/4 cup white wine, dry
Heat the oil in a heavy skillet. Season the flour lightly. Dredge the chicken in the flour and add to the oil until fully cooked. Remove the chicken. Keep warm. Add the broth, wine, and lemon juice to the hot pan. Over medium-high heat, allow the mixture to boil. Whisk in the cornstarch mixture and return to a boil (sauce will be somewhat thin). Remove from the heat and toss in the capers. Serve over the chicken. Garnish with the parsley.

Chicken and Dumplings I
Submitted by: Mystic
2 1/2 to 3 pounds broiler fryer, cut up and skinned
1 tablespoon salt
1 teaspoon pepper
3/4 cup milk
1/2 cup margarine
Plain Pastry, chilled
Place chicken in a saucepan and cover with water; add salt and pepper, and bring to a boil. Cover, reduce heat, and simmer 45 minutes to I hour or until chicken is very tender. Remove chicken from broth, and let cool. Bone chicken, and cut into small pieces. Place chilled pastry on a lightly floured surface and roll thin. Cut into 3 inch strips. Bring broth to a boil, and add milk and margarine. Drop pastry strips into boiling broth; reduce heat, and cook 15 minutes. Keep adding pastry, stirring often to keep the strips from sticking together. Cover and cook 6 to 8 minutes longer; uncover and add diced chicken. Cook until thoroughly heated. Note: If broth has not thickened, blend I tablespoon self rising flour and 1/2 cup water, and add to broth, stirring well. Cook over medium heat 5 to 10 minutes until mixture thickens. Yield: 6-8 servings.

French Chicken Breasts
Submitted by: Wolfmama
4 boneless, skinless chicken breasts
3 tablespoons Dijon mustard
1-2 tablespoons minced parsley
1 teaspoon minced garlic
1 cup chicken broth
1/2 cup whipping cream
Coat both sides of chicken breasts with mustard. In small bowl mix parsley and garlic. In 10-inch skillet place chicken broth and half of the parsley mixture. Using tongs, add chicken and top with remaining parsley mixture.
Over medium heat, bring to boil; reduce heat to low, cover and simmer for 5 minutes. Turn chicken over. Cover and cook 3-5 minutes longer or until no longer pink in the thickest part. Remove chicken to a heated platter; cover and keep warm. Stir cream into liquid in skillet. Increase heat to medium-high. Cook and stir until reduced to about 3/4 cup. Spoon over chicken and serve. Good with rice or noodles and broccoli topped with toasted slivered almonds. Serves 4.

To submit your favorite recipes to be included in the Garden of Friendship Recipe Book, please email them to Barbiel
Background graphics made especially for the Recipes Committee of the Garden of Friendship by Valatine