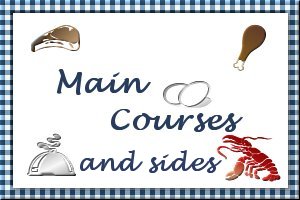 Chicken and Dumplings
Submitted by: Jezebel Jen
Chicken Stock:
4 chicken breasts, skin on
2 onions, peeled, but left whole
4 ribs of celery, plus several leaves
1 bay leaf
1 tablespoon peppercorns

Dumplings:
4 cups all purpose flour, sifted
1 stick butter, softened
1 tablespoon parsley
1 teaspoon salt
Enough broth to mix to make dough
a consistency of pie dough
For chicken stock: Cover with water and boil all the above in a LARGE stockpot or Dutch oven. Boil until chicken is tender. Cool chicken and pull it off the bone. Chop it into small pieces. Strain your broth very well. Return it to stockpot.
For dumplings: Add parsley and salt to flour. Cut butter into it. Add broth a little at a time until you have dough the same consistency as pie crust dough. Flour your counter and place dough in center. Flour your rolling pin and roll dough out to about 1/4-inch thick. Cut it in strips, then in desired size pieces. Bring your broth back to a rolling boil. Add salt to taste and 2 tablespoons parsley flakes. Add chicken. Once broth is boiling hard, drop dumplings in just a few at a time, until all are used. Turn down on low. Simmer 30 minutes or until dumplings are done. Serves 4.

Turkey Pot Pie
Submitted by: Claudia
2 1/2 tablespoons butter
2 tablespoons onion, diced
1 stalk celery, diced
1 carrot, peeled and diced
1/4 cup flour
1 cup chicken broth
3/4 cup milk
1/4 cup peas, frozen
1 1/4 cup turkey, cooked and diced
2 deep-dish pie shells, frozen
1 egg

Pre-heat the oven to 400 degrees. Melt the butter in a heavy skillet. Add the onion, celery, and carrot. Cook until just soft. Whisk in the flour and cook for 3 minutes, stirring constantly. Add the broth and milk. Simmer for 20 minutes, stirring frequently. Add the peas and turkey. Defrost the pie shells. Place one on a cookie sheet. Fill with the turkey mixture. Invert the other shell over the pie to form a top crust. Pinch the edges. Lightly whip the egg. Brush around the pinched edge to seal. Brush the top with the remaining egg. Bake at 400 degrees for 20-25 minutes or until lightly browned. Allow to set 5 minutes before slicing.

Baked Mustard Chicken
Submitted by: Jezebel Jen
4 chicken breast halves, skinned
1/4 cup spicy brown mustard
1/2 cup Italian flavored bread crumbs
1/4 cup margarine, melted
2 tablespoons lemon juice
2 tablespoons water
Paprika
Brush chicken with mustard & dredge in bread crumbs. Place in a 13X9X2-inch baking dish. Combine margarine, lemon juice and water; drizzle 1 tablespoon over each piece of chicken and pour remainder in dish. Cover and bake at 350 degrees for 45 minutes. Remove cover, sprinkle with paprika and bake an additional 15 minutes. Yield: 4 servings.

To submit your favorite recipes to be included in the Garden of Friendship Recipe Book, please email them to Barbiel
Background graphics made especially for the Recipes Committee of the Garden of Friendship by Valatine