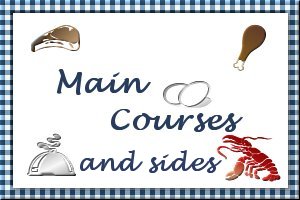 Creamed Chicken Over Biscuits
Submitted by: Sugie
1/4 cup butter
1/2 cup celery, thinly sliced
1/4 cup self-rising flour
1 1/2 cups milk
1/2 teaspoon salt
Dash pepper
Dash red pepper
2 cups cooked chicken, diced
3 large biscuits

Melt butter in a small saucepan over medium-low heat; add celery. Cover and cook until tender. Sprinkle flour over mixture and stir until smooth. Cook 1 minute, stirring constantly. Gradually stir in milk until smooth; add salt, pepper, red pepper, and chicken. Cook, stirring constantly until thickened. Serve over biscuits or toast.

Chicken in Peanut Crust
Submitted by: Merribuck
1 chicken (2 - 2,5 kg)
2 tablespoons Curry paste
3 tablespoons honey
salt and pepper to taste
2 tablespoons Soja sauce
100 g peanuts, fine chopped
1 garlic clove
1 bunch fresh (or dried) thyme
5 medium carrots
1 bunch celery
500 g zucchini
4 onions
3 tablespoons vegetable oil (or Olive oil)
200 ml chicken broth
Cut chicken in 8 parts. In a bowl mix together Curry paste, honey, Soja sauce, chopped peanuts and thymian. Cover chicken parts with this mixture and refrigerate for some hours. Peel carots and cut in fine stripes. Cut sellery and zucchinis in not too smal dices and the onions in 8 parts. Mix all vegetables with oil, season with salt and pepper, add the chicken parts and place in a ovenproof pan. Bake 40 minutes at 200°C, pouring the whole surface with chicken broth every 10 minutes. Serves 4.
Note: Excellent with rice, french white bread (Baguette) and fresh only green salad with sweet-sour sauce.

Pepper-Lime Chicken
Submitted by: De S
2 1/2 lbs chicken breasts
1 teaspoon finely shredded lime zest
1/4 cup fresh lime juice
1 tablespoon cooking oil
2 cloves garlic, minced
1 teaspoon dried thyme, crushed
1/2 teaspoon black pepper
1/4 teaspoon salt
Place chicken breasts on unheated rack of a broiler pan. Broil 4 - 5 inches from heat, about 20 minutes or until light brown. Broil for 5 -15 minutes more or until no longer pink. Brush with Glaze often last 5 minutes of cooking time.
For Glaze: In a small bowl stir together lime zest, lime joice, oil, garlic, thyme, pepper and salt. Brush chicken with glaze (both sides).

To submit your favorite recipes to be included in the Garden of Friendship Recipe Book, please email them to Barbiel
Background graphics made especially for the Recipes Committee of the Garden of Friendship by Valatine