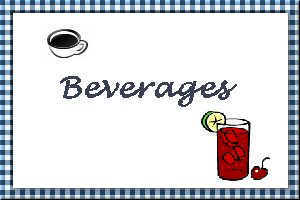 Perfect Lemonade
Submitted by: Kathie
6 lemons
1-1 1/2 cups sugar
8 cups cold water

Wash lemons throughly. Do not peel. Slice as thinly as possible. Place in a large bowl with the sugar. Mash and stir together until sugar softens and partly dissolves. Add the cold water. Stir until sugar is all melted. Pour into covered container. Refrigerate. After two days, remove lemon slices. To serve, fill glass a quarter to half full with lemondade base. Add ice cubes to your taste and fill with soda or water. Serves 8.

Watermelon Lemonade II
Submitted by: Jezebel Jen
8 cups seedless watermelon, 1-inch pieces (from about 4 1/2 pounds)
1 cup fresh lemon juice
3 1/2 cups water
1 cup sugar
Ice cubes
Lemon wedges

Working in 2 batches, blend watermelon and lemon juice in processor or blender until smooth. Transfer to pitcher.
Bring 3 1/2 cups water and sugar to boil in medium saucepan over high heat, stirring until sugar dissolves. Add hot syrup to pitcher with watermelon-lemon juice. Refrigerate until cold, about 2 hours. Fill tall glasses with ice. Pour Watermelon Lemonade over and garnish glasses with lemon wedges. Serves 9.
Note: For an extra kick, add a dash of vodka to this refreshing drink.

Citrus Cooler
Submitted by: Jezebel Jen
1 cup water
1/4 cup sugar
1 cup fresh orange juice
1 cup fresh grapefruit juice
1/4 cup fresh lime juice
2 tablespoons fresh lemon juice
Ice cubes

Note: Blended fruit juices give this slightly sweetened drink its zip.
Stir 1 cup water and sugar in small saucepan over medium-low heat until sugar dissolves. Bring to boil. Transfer syrup to pitcher and chill until cold. Add orange juice, grapefruit juice, lime juice, and lemon juice to pitcher and stir to blend. (Can be prepared 1 day ahead. Keep chilled.) Fill 4 glasses with ice. Pour citrus cooler over and serve. Serves 4.

To submit your favorite recipes to be included in the Garden of Friendship Recipe Book, please email them to Barbiel
Background graphics made especially for the Recipes Committee of the Garden of Friendship by Valatine