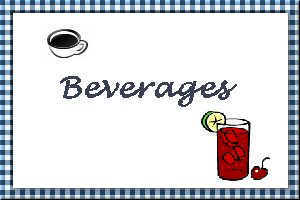 Blackberry Lemonade
Submitted by: Jezebel Jen
6 lemons
4 cups water
1 cup sugar
1/2 cup picked-over fresh blackberries
Garnish: lemon slices

With a vegetable peeler remove zest from 4 lemons and squeeze enough juice from these and remaining 2 lemons to measure 1 cup. In a saucepan boil 2 cups water with sugar, stirring, until sugar is dissolved. Add zest, lemon juice, and remaining 2 cups water and cool. In a food processor or blender purée blackberries and stir into lemonade. Pour blackberry lemonade through a sieve into a pitcher or other container and chill. Chill lemonade, covered, at least until cold and up to 2 days. Serve lemonade over ice in tall glasses, garnished with lemon slices. Makes 6 cups.

Orange Berry Cooler
Submitted by: Jezebel Jen
2 cups strawberries, hulled
2 cups raspberries, picked over
2 1/2 cups fresh orange juice
1/2 cup superfine sugar (to taste)
1 tablespoon fresh lime juice, or to taste
Seltzer water or club soda
In a blender blend berries, orange juice, 1/2 cup sugar, and lime juice until smooth. Force purée through a fine sieve into a large measuring cup or bowl, pressing hard on solids. Chill purée, covered, until cold and stir in additional sugar.(Purée keeps, covered and chilled, 2 days.) Fill tall glasses with ice and add enough berry purée to fill each glass by three quarters. Top off drinks with seltzer water or club soda and stir well. Makes about 5 cups berry purée.

Classic Chocolate Milk Shake
Submitted by: Jezebel Jen
1 1/2 cups sugar
1 cup water
1/2 cup unsweetened cocoa (preferably Dutch process)
1 teaspoon vanilla extract
4 tablespoons milk
6 cups vanilla ice cream
The secret to this fabulous milk shake from the St. Francis Fountain and Candy Store in San Francisco is the homemade chocolate syrup. Refrigerate the leftover syrup to enjoy later, poured over your favorite ice cream or pound cake.
Stir sugar and water in heavy medium saucepan over medium-low heat until sugar dissolves. Increase heat and bring to boil. Place cocoa in small bowl. Gradually whisk in sugar syrup. Return mixture to same saucepan. Boil 1 minute, whisking constantly. Pour into bowl. Whisk in vanilla and cool completely. Cover and chill until cold, at least 1 hour.
(Syrup can be made 1 week ahead. Keep refrigerated). Pour 3 tablespoons chocolate syrup and 1 tablespoon milk into blender. Add 1 1/2 cups ice cream and blend until smooth. Pour into glass. Repeat in 3 more batches, using 3 tablespoons syrup, 1 tablespoon milk and 1 1/2 cups ice cream for each milk shake. Serves 4.

To submit your favorite recipes to be included in the Garden of Friendship Recipe Book, please email them to Barbiel
Background graphics made especially for the Recipes Committee of the Garden of Friendship by Valatine