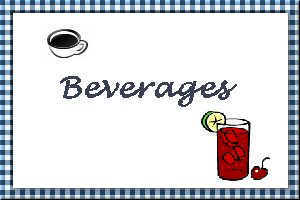 Peach Punch
Submitted by: Kathie
1 cup honey
1 cup fresh orange juice
grated rind of 1 orange
1/2 cup fresh lemon juice
2 cups peeled and mashed peaches
2 cups strong tea (Earl Grey is nice)
pinch salt
2 cups dry cider or gingerale
Place all the ingredients, except the cider or ginger ale, in a punch bowl. Stir all and let stand in refrigerator 2 hours. Just before serving add a good sized piece of ice. Stir well, and add cider or gingerale. Serves 12-14.

Cranberry Cooler
Submitted by: Wolfmama
1 (6 oz) can frozen limeade
4 cups cold water
1 (16 oz) bottle cranberry juice cocktail
1/4 cup Tang orange drink powder
ice cubes
mint to garnish
Prepare limeade with water in a large pitcher. Stir in cranberry juice and instant breakfast drink. Pour over ice cubes in tall mugs, or glasses. Garnish each with a sprig of mint. Serves 10.

Pinneaple-Strawberry Punch
Submitted by: Lady Lynda
2 (0.13 ounce) packages unsweetened strawberry-flavored drink mix powder
1 (46 fluid ounce) cans pineapple juice
1 1/2 cups white sugar
2 quarts water
1 liters Ginger Ale
ice cubes (optional)
In a large punch bowl combine drink mix, pineapple juice, sugar and water. Stir until dissolved. Stir in the Ginger Ale. Add some ice cubes, if desired. Makes 25 servings.

To submit your favorite recipes to be included in the Garden of Friendship Recipe Book, please email them to Barbiel
Background graphics made especially for the Recipes Committee of the Garden of Friendship by Valatine