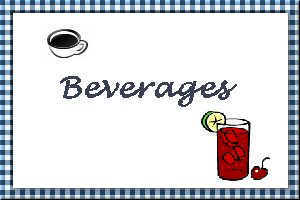 Orange Cream Milkshake
Submitted by: Molly
1/2 cup milk
4 scoops vanilla ice cream
3 tablespoons frozen orange juice concentrate, thawed
In a blender combine milk, ice cream and orange juice concentrate. Blend until smooth. Pour into glasses, garnish with an orange slice and serve.

Sangria
Submitted by: Vadi
5 bottles (750 ml each) cheap red Spanish wine
1 bottle (750 ml each) of rose or burgundy wine (the fizzy one)
1 liter lemon soda
8 oz Cognac
8 oz Rum
1 pound sugar
fruit in season like pears, apples, oranges (essential), peaches
Mix liquid in a big bowl or plastic pail (I have one exclusively for Sangria) and stir in the sugar. Wash the fruit and cut it in pieces, but don't peel it. Mix fruit pieces with the Sangria and let it sit for a few hours. Serve it in pitchers with pieces of fruit and lots of ice.
Note: This sangria is strong enough, but if you want to make it even stronger, marinate the fruit in Cognac for a few hours.

Beer Margarita
Submitted by: De S
1 (12 oz) frozen limeade concentrate
12 oz good quality Tequila
12 oz water
12 oz Corona beer
ice and limes (wedged)
salt to taste
Pour limeade, Tequila, water and beer into large pitcher. Mix well. Rub lime on rim of glass, dip in salt. Add ice to glass and pour in margarita. Garnish glass with lime wedge.

To submit your favorite recipes to be included in the Garden of Friendship Recipe Book, please email them to Barbiel
Background graphics made especially for the Recipes Committee of the Garden of Friendship by Valatine