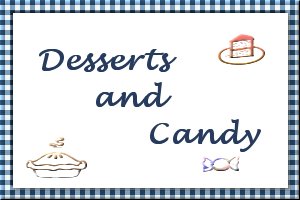 Chocolate Macaroons
Submitted by: Brenda
1/2 cup shortening
4 1-ounce squares unsweetened chocolate
2 cups flour
2 teaspoons vanilla
2 cups sugar
4 eggs
2 teaspoons baking powder
confectioners sugar
Melt chocolate with shortening. Sift dry ingredients together; add sugar to chocolate mixture; add eggs one at a time; add vanilla, then flour. Mix well and chill 2 hours. Roll in large walnut sized balls, then roll in confectioners sugar. Bake 375 degrees for 10-12 minutes.

Sugar Cookies
Submitted by: Brenda
1 cup butter
1/2 cup sugar
1 egg
1/2 teaspoon almond extract
2 1/2 cups flour

Cream butter well; gradually add sugar and beat until light and fluffy. Beat in egg and extract; gradually add flour, will be firm dough. Chill dough well. Roll out 1/8" thick and cut into desired shapes. 350 degrees for 8-12 minutes.

Pecan Tassies
Submitted by: Brenda
1/2 cup oleo or butter
3 ounces cream cheese
1 cup flour
3/4 cup packed brown sugar
1 egg
1 teaspoon vanilla
3/4 cup finely chopped pecans

Combine oleo, softened cream cheese and mix until well blended. Add flour, mix. Chill. Combine brown sugar, egg and vanilla, stir in nuts. Divide chilled dough into 24 balls, press int miniature muffin pans. Fill each cup 3/4 full of brown sugar mixture. Bake at 325 degrees for 25-30 minutes, until lightly browned. Cool 5 minutes and remove from pan. Sprinkle with powdered sugar if desired.
To submit your favorite recipes to be included in the Garden of Friendship Recipe Book, please email them to Barbiel
Background graphics made especially for the Recipes Committee of the Garden of Friendship by Valatine