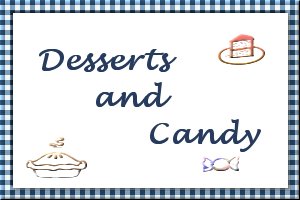 White Mice
Submitted by: Cheri
1 cup soft butter
1/2 cup powdered sugar
1 teaspoon vanilla
2 1/4 cups flour
1/4 teaspoon salt
3/4 cup chopped nuts (pecans)
Mix all ingredients. Roll in 1 inch balls. Bake in 400 degree oven for 20 minutes, but do not brown. Cool and roll in powerded sugar.

Berry-Berry Streusel Bars
Submitted by: Jezebel Jen
Crust:
1 1/2 cups old-fashioned oats
1 1/2 cups all-purpose flour
1 cup firmly packed brown sugar
1/2 teaspoon baking soda
1 cup (2 sticks) chilled unsalted butter, cut into small pieces
Filling
1 12-ounce package frozen blueberries, thawed
2/3 cup raspberry jam
5 teaspoons all-purpose flour
1 1/2 teaspoons minced lemon peel

For crust: Preheat oven to 375 degrees. Butter 13x9x2-inch glass baking dish. Combine first 4 ingredients in medium bowl. Add butter; rub with fingertips until mixture resembles coarse meal. Press half of crumb mixture onto bottom of prepared pan. Bake crust until light brown, about 15 minutes. Cool slightly.
For filling: Mix blueberries, jam, flour and lemon peel in bowl.
Spread filling over crust. Sprinkle remaining crumb mixture over. Bake until topping is golden, about 35 minutes. Cool in pan. Cut into squares and serve.

Almond Cookies
Submitted by: Jezebel Jen
4 1/4 cups whole blanched almonds (1 1/2 pounds)
1 cup granulated sugar
1 tablespoon finely grated lemon or orange zest
1/4 teaspoon baking powder

2 large egg whites, lightly beaten
1 tablespoon honey
1/2 cup lemon or sweet orange marmalade
Garnish:
Confectioners sugar
Preheat oven to 325 degrees.
Pulse 3 3/4 cups (1 1/4 pounds) almonds with sugar, zest, and baking powder in a food processor until finely ground. Add egg whites, honey, and marmalade and blend just until dough forms a ball (dough will be very sticky).
Roll tablespoons of dough into 1-inch balls and arrange about 1 inch apart on 2 parchment paper lined baking sheets. Flatten each ball into a 1 1/2-inch round with moistened fingers. Gently press a whole almond into center of each cookie. Bake in middle of oven until tops of cookies are light brown, about 20 minutes, then cool on baking sheets on racks. Dust with confectioners sugar. Makes 50 cookies.
Cook's note: Cookies keep in an airtight container at room temperature 1 week.
To submit your favorite recipes to be included in the Garden of Friendship Recipe Book, please email them to Barbiel
Background graphics made especially for the Recipes Committee of the Garden of Friendship by Valatine