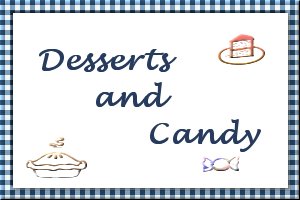 Pumpkin Cookies
Submitted by: PrayingBear
1 cup oil
3 cups sugar
2 eggs, beaten
5 cups flour
2 teaspoons baking powder
2 teaspoons baking soda
2 teaspoons nutmeg
2 teaspoons cinnamon
1 teaspoon allspice
1/4 teaspoon ginger
1 3/4 teaspoons salt
1 29-ounce can solid-pack pumpkin
2 cups raisins
1 cup chopped walnuts
3 teaspoons vanilla
Beat oil and sugar in mixing bowl. Add eggs, beating well. Sift flour, baking powder, baking soda, spices, and salt together. Add to sugar mixture alternately with pumpkin, beating well after each addition. Fold in raisins, walnuts and vanilla. Drop by teaspoonfuls onto greased cookie sheets. Bake at 350°F for 10 to 12 minutes or until golden brown. Cool on wire rack.

Opera Fudge
Submitted by: PrayingBear
1 (12 ounce) package fresh cranberries
1/2 cup light corn syru
2 cups white chocolate chip
1/2 cup confectioners' sugar
1/4 cup evaporated milk
1/2 cup chopped peans
1 teaspoon vanilla extract
Line bottom and sides of an 8x8 inch pan with plastic wrap. Set aside. In a medium saucepan, bring cranberries and corn syrup to a boil. Boil on high for 5 to 7 minutes, stirring occasionally, until the liquid is reduced to about 3 tablespoons. Remove from heat. Immediately add chocolate chips, stiriing until they are melted completely. Add confectioner's sugar, evaporated milk, pecans and vanilla extract, stirring vigorously unti mixture is thick and glossy. Pour into pan. Cover and chill until firm. Makes 16 servings.
Note: You can use frozen cranberries instead of fresh ones.

Orange Fudge
Submitted by: PrayingBear
2 pounds white chocolate, melted
2 (8 ounce) packages Cream cheese
6 cups confectioners' sugar
1 tablespoon orange extract
Beat cream cheese into melted chocolate until well blended. Beat in confectioner's sugar until mixture is smooth. Stir in orange extract. Spread in an 8x8 inch dish and let set before cutting into squares. Store in refrigerator. Makes 16 servings.

To submit your favorite recipes to be included in the Garden of Friendship Recipe Book, please email them to Barbiel
Background graphics made especially for the Recipes Committee of the Garden of Friendship by Valatine