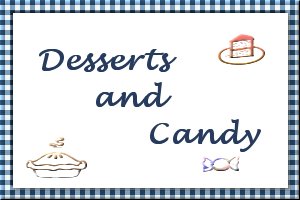 Key Lime Fudge
Submitted by: PrayingBear
1/4 cup butter or margarine (1/2 stick)
2 1/2 cups sugar
2/3 cup evaporated milk (or small 5 oz can)
10-12 oz White Chips
6-7 oz Marshmallow Creme or Marshmallow Fluff
1/3 cup Key Lime juice
1/2 cup almonds or Macadamia nuts
(coarsely chopped)
1/4 teaspoon Rum extract
1 teaspoon lemon extract
Line a 9x9" pan with aluminum foil and set aside. Place White Chips, extracts, and nuts into pyrex glass dish (or a 3-quart saucepan) and set aside. Set butter aside to warm. Heat milk at Medium setting until warm then add sugar. Bring to a rolling boil (Medium-High) while stirring constantly with a hand mixer (or wooden spoon). Add marshmallow creme and butter and mix until creamy. And the Key Lime juice. Bring back to a boil for 5 full minutes by the clock (start timing once the boil resumes). The mixture will start to turn a little brown during the boil. If you get brown flakes in the mixture then turn down the heat a little (down to medium from medium-high) and continue to stir. Remove from heat and pour hot mixture over chips without scraping the sides of the hot saucepan. Mix until chips are melted then mix in nuts. Pour into prepared pan. Cool at room temperature. Remove from pan, remove foil, cut into squares.
Note: You my substitute Marshmallow Creme or Marshmallow Fluff for 2 cups of mini-marshmallows.
If recipe is doubled then use a very large saucepan since the marshmallow creme will expand when heated. Boil for 8 minutes (by the clock) after the boil resumes instead of the usual 5 minutes.
Key Lime juice is acidic and will cause the milk to curl. While uncosmetic, it should not effect the fudge's ability to set.

Chocolate Cherry Bars
Submitted by: Sandy Lov
1/2 cup stick margarine
1/2 cup granulated sugar
1 egg, slightly beaten
1/2 cup cocoa
1 teaspoon Vanilla extract
1/2 teaspoon baking powder
1/8 teaspoon baking soda
1/2 cup all-purpose flour
1/2 cup low-sugar cherry pie filling
2 tablespoons mini chocolate chips
Preheat the oven to 325°F. Spray an 8x8-inch baking pan with nonstick cooking spray. In a medium saucepan, melt the margarine. Add the sugar and stir until smooth and slightly cooled (about 2 minutes). Blend in the egg. Add the cocoa, Vanilla, baking powder and baking soda. Stir until the cocoa is fully incorporated (about 1 minute). Add the flour and stir just until smooth (about 1 minute). Spread the batter in the prepared baking pan and top evenly with pie filling. Bake until the top becomes slightly crusty, 8 to 10 minutes, then sprinkle on the chocolate chips. Bake until a toothpick inserted into the center comes out clean with a few moist crumbs, about 8-10 minutes. Yield: 16 servings.

Orange Tea Biscuits
Submitted by: Vadi
2 cups flour
1/2 teaspoon salt
2 tablespoons sugar
4 teaspoons baking powder
3 tablespoons shortening
grated rind of 1 orange
3/4 cup milk
orange juice
Preheat oven to 425°F. Mix dry ingredients; cut in shortening. Add grated orange rind. Add milk to dry ingredients. Mix completely. Turn dough onto floured board. Pat to 1/2 inch thickness. Cut with small cutter. Put into greased baking pan. Before putting into oven, dip bottom of beverage glass into orange juice; press down intotop of each biscuit. Bake and serve at once. Makes 2 1/2-3 dozen (about 36 cookies).

To submit your favorite recipes to be included in the Garden of Friendship Recipe Book, please email them to Barbiel
Background graphics made especially for the Recipes Committee of the Garden of Friendship by Valatine