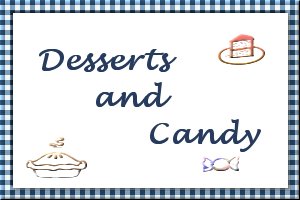 Sand Tarts
Submitted by: Betty G
2 sticks butter or margarine
7 tablespoons white sugar
1 tablespoon Vanilla
4 cups flour
6 tablespoons water
1 cup pecans
confectioner's sugar to coat the cookies
Preheat oven to 350°F. Cream together the butter or margarine with the sugar and Vanilla. Add the flour and water a little at a time to the creamed mixture. To this add your pecans. Form the dough into round balls and place close together on an un-greased cookie sheet. Bake for 12 to 15 minutes until light brown in color. Cool cookies completely, then dust with confectioner's sugar.
Note: These are really yummy.

Chocolate Quickie Stickies
Submitted by: Lily
8 tablespoons (1 stick) butter or margarine, divided
3/4 cup packed light brown sugar
4 tablespoons HERSHEY'S Cocoa, divided
5 teaspoons water
1 teaspoon Vanilla extract
1/2 cup coarsely chopped nuts(optional)
2 cans (8 oz. each) refrigerated quick crescent dinner rolls
2 tablespoons granulated sugar
InstructionsHeat oven to 350°F. Melt 6 tablespoons butter in small saucepan over low heat. Add brown sugar, 3 tablespoons cocoa and water. Cook over medium heat, stirring constantly, just until mixture comes to boil. Remove from heat. Stir in Vanilla. Spoon about 1 teaspoonful chocolate mixture into each of 48 small muffin cups (1-3/4-inches in diameter). Sprinkle 1/2 teaspoon nuts, if desired, into each cup. Set aside. Unroll dough. Separate into 8 rectangles. Firmly press perforations to seal. Melt remaining 2 tablespoons butter. Brush over rectangles. Stir together granulated sugar and remaining 1 tablespoon cocoa. Sprinkle over all rectangles. Starting at longer side, roll up each rectangle. Pinch seams to seal. Cut each roll into 6 equal pieces. Press gently into prepared pans, cut-side down. Bake 11 to 13 minutes or until light brown. Remove from oven. Cool 30 seconds. Invert onto cookie sheet. Let stand 1 minute. Remove pans. Serve warm or cool completely. Makes 4 dozen small rolls.
Note: Rolls can be baked in two 8-inch round baking pans. Heat oven to 350°F. Cook chocolate mixture as directed. Place half in each pan. Prepare rolls as directed. Place 24 pieces, cut-side down, in each pan. Bake 20 to 22 minutes. Cool and remove from pans, as directed above.

Title
Submitted by:
Ingredients
Ingredients
Instructions

To submit your favorite recipes to be included in the Garden of Friendship Recipe Book, please email them to Barbiel
Background graphics made especially for the Recipes Committee of the Garden of Friendship by Valatine