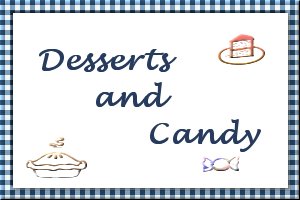 Bananas Foster
Submitted by: Dee
4 bananas
1/2 cup brown sugar, packed
1/2 teaspoon salt
1/4 cup dark rum
3/4 cup packed light brown sugar
4 tablespoons butter
1/4 teaspoon cinnamon
vanilla ice cream
Melt the butter over low heat. Stirring constantly, add the sugar and cinnamon. Cut the bananas lengthwise, and then in half. Add the bananas and cook until just soft. Remove the pan from the heat. Slowly add the rum. CAREFULLY return the pan to the heat until it flames. Cook until flame goes out. Place bananas over the ice cream scoops and spoon the sauce over the top. Serves 4.

Rice Pudding
Submitted by: Jezebel Jen
1 cup cooked rice
1 cup milk
2 1/2 tablespoons sugar
dash of salt
1 tablespoon butter
1/4 teaspoon vanilla
Combine rice, milk, sugar, salt, and butter. Cook over medium heat until thickened, about 20 minutes, stirring often. Add vanilla and cool. Serves 8.

Butter Pecan Mousse
Submitted by: Claudia
3/4 cup pecan pieces
16 ounces cream cheese, softened
1/4 cup firmly packed brown sugar
1 cup whipping cream,whipped
1 tablespoon butter or margarine, melted
1/4 cup sugar
1/2 teaspoon vanilla extract

Combine pecans and butter, stirring well; spread on a baking sheet. Bake at 350 degrees for 5 minutes or until toasted; cool. Finely chop and set aside. Beat cream cheese at medium speed with an electric mixer until smooth. Add sugars and vanilla, beating well. Stir in 3/4 cup toasted pecans. Gently fold whipped cream into pecan mixture; spoon or pipe into serving dishes. Garnish if desired with more pecan pieces. Yield: 6 servings.

To submit your favorite recipes to be included in the Garden of Friendship Recipe Book, please email them to Barbiel
Background graphics made especially for the Recipes Committee of the Garden of Friendship by Valatine