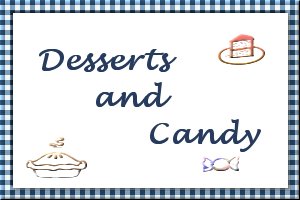 Apple Dumplings
Submitted by: Barbiel
pastry for a 9" 2 crust pie
6 baking apples about 3" in diameter,
peeled and cored
3 tablespoons raisins
3 tablespoons chopped nuts
2 cups brown sugar, packed
1 cup water
Heat oven to 425°F. Prepare pastry and cut into squares about 6" x 6". Put apple into the middle of each square. Mix raisins and nuts, fill the center of each apple. Bring corners of pastry up and join together by moistening with water. Press in sides of pastry. Place dumplings in ungreased baking dish. Heat brown sugar and water to boiling, carefully pour around dumplings. Spooning syrup over dumplings 2 or 3 times during baking, bake about 40 minutes until crust is golden and apples are tender. Best served warm.

Pumpkin Bars
Submitted by: Barbiel
2 cups sugar
1/2 cup oil
1-16 oz can pumpkin
4 eggs beaten
2 cups bisquick
2 teaspoons cinnamon
1/2 cup raisins
3/4 cup pecans (optional)
In large mixing bowl beat together sugar, oil, pumpkin, and eggs for one minute at medium speed. Stir in the rest of the ingredients and pour into a 9x13 lightly greased pan. Bake at 350°F about 25 minutes or until a wooden toothpick inserted in center comes out clean. Cool completely. Cover with Frosting, let it cool and serve.
Frosting
1 - 3 oz package Cream cheese
1/3 cup margarine (softened)
1 tablespoon milk
1 teaspoon Vanilla
2 cups powdered sugar
Mix first 4 ingredients, add sugar and beat until smooth. Spread over cake.

English Cream
Submitted by: Barbiel
1 cup milk
2 egg yolks
4 tablespoons granulated sugar
1 teaspoon flour
2 teaspoons Vanila
any Variation your preference (below)
This is one of the basic dessert sauces. It is luscious simply served with fresh fruit. Heat the milk to the boiling point while you ribbon the yolks with the sugar; beat with a whisk until canary yellow. Then add the flour and beat again. While whisking, pour the boiling milk over the yolk-sugar mixture, then return to the pan. Stirring, preferably with a wooden spoon that has a flat edge to scrape the bottom of the pan, bring just to the boil. Immediately remove from the heat, whisking to cool. Pour through a fine sieve for the best texture. Keeps 2 or 3 days refrigerated. Makes 1 1/2 cups. For the Sauce, use any of the Variations below.
Variations:
Chocolate Sauce: Add 2 oz. bittersweet chocolate, chopped, to the hot sauce and stir until melted.
Mocha Sauce: Add 3 teaspoons of powdered instant espresso coffee.
Orange Sauce: Add 2 tablespoons Grand Marnier or Cointreau.
Berry Sauce: Strawberry, cherry, raspberry or any other berry purée your preference (as many tablespoons as you desire).

To submit your favorite recipes to be included in the Garden of Friendship Recipe Book, please email them to Barbiel
Background graphics made especially for the Recipes Committee of the Garden of Friendship by Valatine