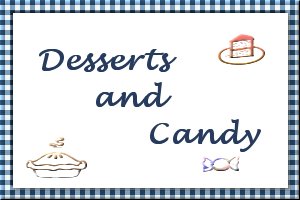 Bread Pudding
Submitted by: Barbiel
Basic Bread Pudding:
Scald 1 quart milk. Add 5-6 cups bread cubes and 1/4 cup butter. Beat 2 eggs. Add 3/4 cup sugar, 1/2 teaspoon salt, 1 teaspoon Vanilla, 1 1/2 teaspoons. cinnamon, 1 teaspoon nutmeg and 1 cup raisins. Combine mixtures. Pour into buttered 9x13" pan. Sprinkle with nutmeg. Bake at 375°F 45 minutes to one hour.
Raisin Bread Pudding
1 quart stale bread
3 eggs
1 cup raisins
1 1/2 pints milk
1 teaspoon Vanilla extract
1/2 cup sugar
Crumble the bread into pieces into a large bowl and mix with sugar and raisins. Beat eggs until light and fluffy, add milk and vanilla and pour over the dry ingredients. Put it all into a buttered baking dish and bake for an hour (or until done) in a preheated 350°F oven. Serve with Vanilla Custard (see recipe below) or your favorite sauce.
Vanilla Custard for Bread Pudding
1/4 cup sugar
2 tablespoons cornstarch
2 cups milk
1/3 teaspoon salt
1 1/2 teaspoons Vanilla extract
1 teaspoon cinnamon
In a small saucepan, on medium heat, combine all ingredients cook while stirring until thickened.

Pots de Creme
Submitted by: Barbiel
2 cups light cream (half and half)
1 (3-inch) Vanilla bean
6 egg yolks
1/2 cup granulated sugar
1/8 teaspoon salt
a large roasting pan and a large pot or kettle of hot or boiling water
In a medium saucepan, heat 1 3/4 cups of the light cream (half and half) with the Vanilla bean until cream is scalding. Do not boil. Remove from heat and set aside. Beat egg yolks until they are lemon colored. Beat in the sugar, salt, and the remaining 1/4 cup of the light cream. Remove the vanilla bean from the hot cream (rinse off the vanilla bean and dry. Store for future use, or you may discard the Vanilla bean). Gradually beat the hot cream into the egg yolk mixture, stirring constantly. Strain the mixture into a large 4-cup measuring cup. Place six (6) small souffle cups, custard cups or ramekins in a large roasting pan. Divide the mixture evenly into the 6 cups. Pour enough hot or boiling water in the pan to come halfway up the sides of the cups ("water bath"). Cover the pan with aluminum foil or cover with the pot lids. Place in oven and bake at 350°F (180°C) until the custard is just set around the edges, approximately 30-35 minutes. Carefully remove the pan (with very hot water) from the oven. Leave Pots de Creme in pan in water bath, and cool to room temperature. Then remove them from water bath. Cover them with plastic wrap and chill in refrigerator for at least 2 hours or up to overnight. Serve chilled Pots de Creme with a spoonful of whipped cream and a light dusting of cocoa powder, if desired. Makes 6 servings.
Note: The Pots de Creme may be chilled in refrigerator for up to 2 days, covered with plastic wrap.

Chocolate Fondue
Submitted by: Barbiel
Big Dippers:
12 ounces sweet German chocolate, semisweet chocolate chips or Toblerone chocolate
1 cup light cream or half and half
1 teaspoon Vanilla extract
Before melting the chocolate, prepare the

F

ruit Dippers

(see below). Wash and hull the strawberries (but leave them whole), slice the apples, peel and slice kiwis and peel and chop the pineapple (parents only). Cut the pound cake into cubes and leave the marshmallows whole. Arrange all the fruit, cake and marshmallows on a large platter. Squirt lemon juice on the apples and bananas to keep them from browning. Cover the platter and set it aside.
Fondue: Break the chocolate squares into pieces and drop them into a saucepan. Add the light cream or half and half and melt over low heat, stirring occasionally, until the chocolate is smooth. Add the Vanilla extract and stir. Transfer the chocolate sauce to a fondue pot (for little kids, you can pour the sauce into a small bowl or ramekin). Use a fondue fork to spear the fruit and sweets, then dip in the chocolate. Serves 8 to 10.
Fruit Dippers:
Banana slices
Pineapple chunks
Whole strawberries
Apple slices
Kiwifruit
Star fruit
Pear slices
Orange sections
Pound cake pieces
Marshmallows
Shortbread fingers
Crusty French bread

To submit your favorite recipes to be included in the Garden of Friendship Recipe Book, please email them to Barbiel
Background graphics made especially for the Recipes Committee of the Garden of Friendship by Valatine