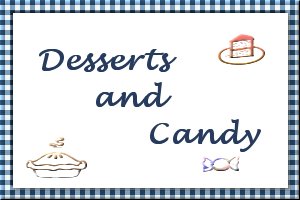 Lighter Than Air Chocolate Delight
Submitted by: Lily
2 envelopes unflavored gelatin
1/2 cup cold water
1 cup boiling water
1-1/3 cups nonfat dry milk powder
1/3 cup HERSHEY'S special dark Cocoa or HERSHEY'S Cocoa
1 tablespoon Vanilla extract
dash salt
granulated sugar substitute to equal 14 teaspoons sugar
8 large ice cubes
Sprinkle gelatin over cold water in blender container; let stand 4 minutes to soften. Gently stir with rubber spatula, scraping gelatin particles off sides. Add boiling water to gelatin mixture. Cover. Blend until gelatin dissolves. Add dry milk powder, cocoa, Vanilla and salt. Blend on medium speed until well mixed. Add sugar substitute and ice cubes. Blend on high speed until ice is crushed and mixture is smooth and fluffy. Immediately pour into 4-cup mold. Cover. Refrigerate until firm. Unmold onto serving plate. Makes 8 servings.
Note: Eight individual dessert dishes may be used in place of 4-cup mold, if desired.

Chocolate French Toast
Submitted by: Lily
3 eggs
3/4 cup milk
3 tablespoons sugar
2 tablespoons HERSHEY'S Cocoa
1/4 teaspoon Vanilla extract
1/8 teaspoon salt
1/4 teaspoon cinnamon (optional)
8 to 10 pieces thickly sliced bread
powdered sugar (optional)
pancake syrup (optional)
Beat eggs, milk, sugar, HERSHEY'S Cocoa, Vanilla, salt and cinnamon, if desired, in large bowl until smooth. Heat griddle or skillet over medium-low heat. Grease griddle with margarine, if necessary. Dip bread in egg mixture. Place on griddle. Cook about 2 to 4 minutes on each side. Serve immediately with powdered sugar or pancake syrup, if desired.

Chocolate Peanut Butter Freeze
Submitted by: Lily
2 to 3 scoops (about 1 cup) vanilla ice cream or frozen yogurt
1/2 cup cold milk
3 tablespoons REESE'S Chocolate Peanut Butter Topping
1 REESE'S Peanut Butter Cup, unwrapped (optional)
Place ice cream, milk and chocolate peanut butter topping in blender container. Cover. Blend until smooth. Garnish with peanut butter cup, if desired. About one 10-oz. serving.

To submit your favorite recipes to be included in the Garden of Friendship Recipe Book, please email them to Barbiel
Background graphics made especially for the Recipes Committee of the Garden of Friendship by Valatine