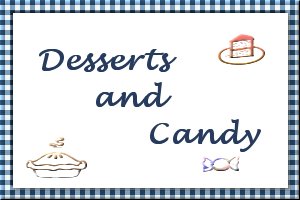 Apple and Cheese Pudding
Submitted by: Praying Bear

450 g apples, sliced
25 g butter
few drops Vanilla essence
150 ml milk
100 g Curd cheese
2 eggs
few drops lemon juice
25 g caster sugar
ICook the apples gently in butter, lemon juice and Vanilla essence until slightly soft, place in a buttered ovenproof dish. Beat together the milk, cheese, eggs and sugar. Pour over the apples. Bake at 190°C (375°F) gas 5 for 25 minutes. Serve hot.

Toffee Pudding
Submitted by: Praying Bear
2 oz. butter
6 oz. granulated sugar
1 egg
8 oz. plain flour
1/2 teaspoon baking powder
1/2 pt. hot water
1/2 teaspoon baking soda
6 oz. stoned dates (pitted)
Vanilla essence
brown sugar and whipping cream, for topping
Cream butter and sugar, add egg and beat for a few minutes. Fold in flour. Soak dates in water with baking powder, baking soda and Vanille essence. Sitr into flour mixture. Turn into 7X7 pan (I use 9 by 9), greased and bake approximately 30-40 minutes moderately hot oven.(325°-350°F). Melt 3 oz. butter in saucepan, add 6 oz. brown sugar, (dark, soft brown sugar for richer topping) and 1/4 pt. whipping cream and boil for 2-3 minutes until fudgy. Pour over hot pudding. Serves 6-8.

Title
Submitted by:
Ingredients
Ingredients
Instructions

To submit your favorite recipes to be included in the Garden of Friendship Recipe Book, please email them to Barbiel
Background graphics made especially for the Recipes Committee of the Garden of Friendship by Valatine