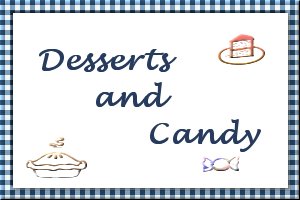 Pumpkin Bread Pudding
Submitted by: Dee
1 pound firm French bread
1 1/2 cups sugar
15 ounces pumpkin pie mix (seasoned)
1/2 cup pecans
2 cups half and half (half milk, half cream)
3 eggs
1/2 cup raisins

Lightly grease a medium casserole dish. Pre-heat the oven to 350 degrees. Tear the bread into medium pieces. Add to a mixing bowl. Sprinkle on the sugar. In a separate bowl, lightly beat the eggs. Add the half and half and pumpkin mix. Toss the mixture with the bread. Place half in the casserole. Add the raisins and pecans. Top with the other half of the mixture. Bake for 25-35 minutes or until firm and lightly brown. Serve warm with whipped cream.

Brownie Pudding
Submitted by: Denise
1 cup flour
2 teaspoons baking powder
1/2 teaspoon salt
3/4 cup sugar
2 tablespoons cocoa
1/2 cup milk
1 teaspoon vanilla
2 tablespoons melted shortening
Topping:
3/4 cup brown sugar
1/4 cup cocoa
1 3/4 cups boiling water
Mix all ingredients and pour into an 8x8 pan.
Topping: Mix brown sugar and cocoa together and sprinkle over batter in the pan.
Pour boiling water over cake. Bake at 350 degrees for 40 to 50 minutes.

Apple Bars
Submitted by: Brenda
4 cup flour
1 1/2 cups shortening
1 egg + milk to make 1 1/4 cup, beaten

1 teaspoon salt
1 cup crushed corn flakes
6 cups sliced apples
1 teaspoon cinnamon
Cut shortening into flour, add egg/milk mixture. Roll out half of dough and fit into a sheet cake pan. Spread the bottom of the crust with the crushed corn flakes. Mix the apples, sugar and cinnamon, spread on top of corn flakes. Roll out remaining dough and fit on top. Seal. Bake at 375 degrees til golden brown. Glaze with a thin powdered sugar glaze while still hot.

To submit your favorite recipes to be included in the Garden of Friendship Recipe Book, please email them to Barbiel
Background graphics made especially for the Recipes Committee of the Garden of Friendship by Valatine