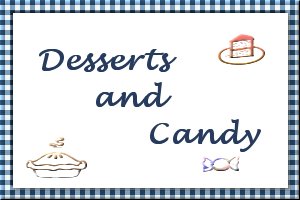 Chocolate Pots de Creme
Submitted by: Claudia
6 ounces semisweet chocolate chips
1/2 cup half and half (light cream)
3/4 cup packed light brown sugar
1 cup whipping cream
2 egg yolks

Combine first 3 ingredients in a heavy saucepan; cook over low heat, stirring constantly, until chocolate melts. Beat egg yolks until thick and pale. Gradually stir about one-fourth of hot mixture into yolks; add to remaining hot mixture, stirring constantly. Cook over low heat, stirring constantly, 2 minutes or until mixture thickens slightly. Spoon into individual serving containers; cover and chill. Yield: 4 servings.

Fruit Cobbler
Submitted by: Janna
1 cup flour
1 1/2 teaspoon baking powder
1/2 teaspoon salt
3/4 cup sugar
1 cup milk
1/2 teaspoon vanilla
1/2 cup butter or margarine
4 cups fresh or canned fruit or berries, drained
1 cup fruit juice

Mix until smooth the dry ingredients with the milk and vanilla. Melt butter in 8 x 10" baking pan. Pour batter over melted butter. Place over batter the fruit. Pour over the top, 1 cup fruit juice. Bake in preheated 350 degree oven for 30-35 minutes until light brown.

Peach Cobbler
Submitted by: Jezebel Jen
Filling Ingredients:
6 cups sliced peaches
1 cup sugar
1/4 cup flour
1 tablespoon lemon juice
1/2 teaspoon ground allspice
1 teaspoon vanilla extract
1 teaspoon ground cinnamon
Pinch of salt
Topping:
3 tablespoons butter, softened
1/2 cup flour
1/2 cup dark brown sugar
1 tablespoon lemon juice
Pinch of salt

Combine all filling ingredients in a bowl and stir. Place in a greased 9-inch baking dish. Combine topping ingredients and mix until crumbly. Sprinkle over peach mixture and bake at 350 degrees for 40 minutes.
To submit your favorite recipes to be included in the Garden of Friendship Recipe Book, please email them to Barbiel
Background graphics made especially for the Recipes Committee of the Garden of Friendship by Valatine