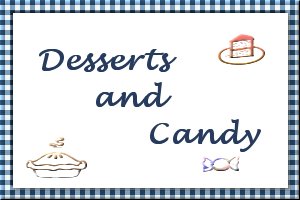 Apple Crisp
Submitted by: Lady Lynda
8 medium cooking apples
1 cup flour
1/2 cup brown sugar
1/2 cup white sugar
1 teaspoon cinnamon
1/2 cup butter or margarine
Preheat the oven to 375 degrees F. Peel, core, and cut the apples into thin slices. Place them in a 9 by 13-inch baking dish. In a bowl with a pastry cutter, mix the remaining ingredients until they are well blended and resemble coarse cornmeal. Sprinkle the mixture over the apples, and bake until apples are tender, about 30 to 35 minutes. Serve warm or cold. Serving 8.

Pineapple Dessert Souffle
Submitted by: Wolfmama
2 envelopes unflavored gelatin
1/2 cup cold water
6 egg yolks
2 tablespoons grated lemon peel
1/4 cup lemon juice
1 cup sugar
1/2 teaspoon salt
1 1/3 cups crushed pineapple -- drained
6 egg whites
1 cup whipping cream -- whipped
Pineapple chunks
Fresh mint leaves
Combine gelatin and water; let mixture stand 5 minutes. Beat egg yolks slightly in the top of a double boiler; stir in lemon rind, juice, sugar, and salt. Cook over boilingwater; stirring constantly, until the mixture thickens. Remove from heat; add gelatin, and stir until dissolved. Add pineapple; set aside to cool until slightly thickened (about 30 minutes). Beat egg whites (at room temperature) until stiff peaks form. Fold egg whites and whipped cream into yolk mixture. Pour into a slightly oiled 6-cup ring mold. Chill overnight. Unmold on a serving platter. Garnish with pineapple chunks and fresh mint leaves, if desired. Yield: 8 servings.

Creamy Caramel Flan
Submitted by: Vadi
3/4 cup white sugar
1 (8 ounce) package cream cheese, softened
5 eggs
1 (14 ounce) can sweetened condensed milk
1 (12 fluid ounce) can evaporated milk
1 teaspoon vanilla extract
Preheat oven to 350°F (175°C). In a small, heavy saucepan over medium-low heat, cook sugar, stirring, until golden. Pour into a 10 inch round baking dish, tilting to coat bottom and sides. Set aside. In a large bowl, beat cream cheese until smooth. Beat in eggs, one at a time, until well incorporated. Beat in condensed and evaporated milk and vanilla until smooth. Pour into caramel coated pan. Line a roasting pan with a damp kitchen towel. Place baking dish on towel, inside roasting pan, and place roasting pan on oven rack. Fill roasting pan with boiling water to reach halfway up the sides of the baking dish. Bake in preheated oven 50 to 60 minutes, until center is just set. Cool one hour on wire rack, then chill in refrigerator 8 hours or overnight. To unmold, run a knife around edges of pan and invert on a rimmed serving platter.

To submit your favorite recipes to be included in the Garden of Friendship Recipe Book, please email them to Barbiel
Background graphics made especially for the Recipes Committee of the Garden of Friendship by Valatine