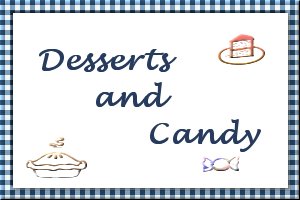 Creme Brulee
Submitted by: LisaW
8 egg yolks
4 eggs
6 oz brown sugar
1 quart heavy cream
1/2 teaspoon salt
1 teaspoon vanilla extract
3 oz brown sugar
Mix eggs, yolks, and 6 ounces brown sugar. Heat cream to scalding point and gradually pour into eggs, add salt and vanilla. Strain, divide into 12 individual 5 oz. dishes. Bake in hot water bath at 350°F for 30 minutes. Let cool. Dry 3 ounces brown sugar in a warm oven. Break lumps with a rolling pin, sprinkle on top of custard and caramelize under the broiler. Yield: 12 servings.

Fried Ice Cream
Submitted by: Vadi
6 scoops chocolate or vanilla ice cream
1 cup Graham cracker crumbs
1/4 teaspoon cinnamon
1 egg
1 tablespoon milk
oil for deep frying
chocolate topping
honey
Scoop ice cream into balls. Cover and place in freezer until very firm, at least 3 hours. Combine Graham cracker crumbs and cinnamon. Quickly roll ice cream ball into crumb mixture and return to freezer. Beat egg and milk until well blended. Quickly roll coated ice cream balls into egg mixture, the crumbs again and return to freezer. Freeze for 1-2 hours. Heat oil to 375°F in a deep fat fryer or saucepan. Using a slotted spoon, lower one ice cream ball at a time into the hot oil. Fry until coating begins to brown, 10-15 minutes. Serve immediately, with chocolate topping and/or honey. Makes 6 servings.

Maple Walnut Bread Pudding
Submitted by: Molly
Copyright © 2001-2002 Pamela Rice Hahn
1 cup skim milk
3/8 cup dry nonfat milk powder
2 teaspoons unsalted butter
2 eggs
1 teaspoon vanilla
3 tablespoons maple syrup
1 tablespoon brown sugar
4 slices 7-grain bread
1/4 cup chopped walnuts
pinch sea salt (optional)
Preheat oven to 350°F. Put the first 7 ingredients in a food processor or blender container and process until mixed. Remove the crusts from 4 thick slices of 7-grain bread. (This will result in about 4 ounces of bread) Tear bread into pieces and place in a mixing bowl. Pour the blended milk-egg mixture over the bread, add the chopped walnuts, and toss to mix. Spray a round, nonstick cake pan with nonstick spray. Pour mixture into cake pan. Bake for 20 minutes (or until egg is set). For a scrumptious warm dessert, cut into pie-shaped wedges. Top with a scoop of ice cream and warm maple syrup or caramel sauce.
Suggestion: Serve (warm or chilled) leftover slices instead of bread with a bacon and eggs breakfast.

To submit your favorite recipes to be included in the Garden of Friendship Recipe Book, please email them to Barbiel
Background graphics made especially for the Recipes Committee of the Garden of Friendship by Valatine