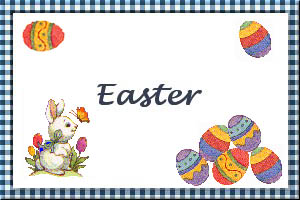 Easter Bunny
Submitted by: Barbiel
1 1/2 ounce Creme de Cacao
1/2 ounce Vodka
1 teaspoon chocolate syrup
1 teaspoon Cherry Brandy
Shake creme de cacao and vodka with ice. Strain over ice in an old fashioned glass. Float chocolate syrup and cherry brandy. Serves 2.

Almond Cocktail
Submitted by: Barbiel

60 g blanched almonds
125 g pineapple-flavoured yogourt
125 g pineapple juice
1 drop bitter almond oil
25 g sliced almonds
2 slices fresh pineapple to garnish (optional)
Mix all the ingredients in a bowl or a shaker. Pour into champagne glasses. Decorate with a slice of pineapple and a few roasted sliced almonds. Serve chilled. Makes 2 servings.
Note: You can also serve the cocktail without garnishing with pineapple slices (see foto).

Egg Lemonade
Submitted by: Barbiel
2 cups sugar
3 cups water
1 lemon rind, grated
juice from 4 lemons
1 egg
1 quart club soda
Boil sugar and water 10 minutes. Add the grated lemon rind and juice. Let cool. Beat the egg well until light yellow. To serve the drink, put cracked ice in glasses. Mix the egg and the lemon syrup in a large pitcher. Add the club soda. Stir. Pour into glasses from as much height as you dare to make mixture foam. Makes 4 servings.

To submit your favorite recipes to be included in the Garden of Friendship Recipe Book, please email them to Barbiel
Background graphics made especially for the Recipes Committee of the Garden of Friendship by Valatine