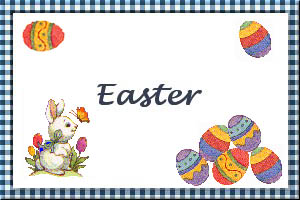 Apricot Kefir
Submitted by: CajunSue
500 g kefir
100 g cream
200 g apricots
20 g granulated sugar
Take soft ripe apricots and rinse them. Pour boiling water over the apricots, peel and stone them. Grate them through a fine sieve and grind with an electric mixer, gradually adding: first cream and sugar, then kefir or any other diary product. Whisk the mixture until it is light and fluffy. Serves 2-4.

Easter Flowers Juice
Submitted by: Dixi
4 bananas, peeled, cut into pieces
2 cups chilled orange juice
1/2 fresh pineapple, peeled, cored, cut into chunks
1 cup cold water
2 1/2 tablespoons pure maple syrup
2 tablespoons grenadine
1 tablespoon fresh lemon juice
6 fresh strawberries
Combine bananas and 1/4 cup orange juice in processor and puree. Transfer to pitcher. Combine pineapple chunks and 1/4 cup orange juice in processor and puree. Transfer to same pitcher. Mix in water, syrup, grenadine, lemon juice and 1 1/2 cups orange juice. Pour fruit mixture into tall glasses. Garnish with strawberries and serve. Serves 4-6.
Note: Can be made 6 hours ahead. Chill. Stir well before serving.

Easter Nuts
Submitted by: Barbiel
4 scoops vanilla ice cream
1 cup hazelnuts
1 cup milk
1/2 cup hazelnut liqueur
1 cup whipped cream to garnish
4-6 marascchino cherries to garnish
In a blender, combine vanilla ice cream, hazelnuts, milk and hazelnut liqueur. Blend until smooth. Pour into glasses and garnish with a dollop of whipped cream and marascchino cherries. Serves 4-6.

To submit your favorite recipes to be included in the Garden of Friendship Recipe Book, please email them to Barbiel
Background graphics made especially for the Recipes Committee of the Garden of Friendship by Valatine