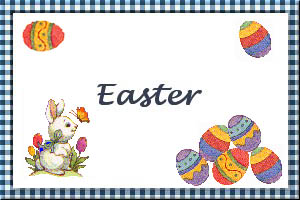 Peach Pineapple Fizz
Submitted by: Vadi
2 ripe peaches, sliced
1 cup fresh pineapple chunks
6 ounces pineapple juice
1/4 cup frozen limeade concentrate
1/4 teaspoon almond extract
crushed ice
3 cups chilled club soda
peach slices
pineapple cubes
Process the peaches and pineapple in a blender or food processor until smooth. Mix the fruit puree with the pineapple juice, limeade and almond extract. Fill 6 glasses 2/3 way fill with ice. Distribute the fruit mixture evenly among the glasses. Fill with club soda. Garnish with peach and pineapple pieces. Serves 6.
Note: This frosty drink is fat and cholesterol free. At only 65 calories it is a light alternative to diet soda or sugar free drinks.

Easter Bonnets
Submitted by: Teresa
1 1/2 ounces Vodka
1 1/2 ounces apricot Brandy
1 1/2 ounces peach Brandy
1/4 lemons, juiced
Champagne
1 slice orange or 1 cherry or 1 slice pineapples.
Mix all ingredients. Serve chilled. Makes one serving.
Note: Alcoholic beverage smooth and delicious drink, but guest must be warned: Two is the limit ;)

Golden Easter Punch
Submitted by: Teresa
6 cups water
4 cups sugar
1 (46 ounces) can pineapple juice
1 (12 ounces) can orange juice concentrate
1 (6 ounces) can lemonade concentrate
1/2 teaspoon Vanilla
1 (2 liters) bottle carbonated lemon-lime beverage
1 quart pineapple sherbet
Mix everything. Serve chilled. Makes 32 servings.
Note: A beautiful addition to your Easter dinner. Float slices of fruit on top for a nice touch.

To submit your favorite recipes to be included in the Garden of Friendship Recipe Book, please email them to Barbiel
Background graphics made especially for the Recipes Committee of the Garden of Friendship by Valatine