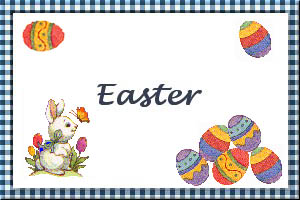 Greek Easter Bread - Tsourekia
Submitted by: Barbiel

1 cup yoghurt
2 cups milk
12 eggs (reserve 3 yolks)
5 lb flour
1 tablespoon salt
1 package yeast
3 cups sugar
1 lb sweet butter
2 cups warm water
sesame seeds
Dissolve yeast in the warm water and add enough flour to make a thick batter and cover and let rise double. In a large bowl, beat butter and sugar very light and fluffy about 20 minutes. Beat in the eggs (except for 3 yolks). Alternate adding flour and yoghurt and milk to egg/sugar mixture and stir in the yeast mixture. Enough flour should be added to make a non sticky dough. Knead smooth and elastic. Cover dough in a large greased bowl and let rise double. Punch down and let rise double again. Then shape as desired in pan or in braided rings. Let rise double and brush loaves with the reserved egg yolks. Sprinkle with sesame seeds. Traditionally for easter, red colored hard cooked eggs may be pressed into the braided ring before the 3rd rising. Bake in a 350°F until golden (30minutes). Makes 5 loaves. The recipe may be easily halved.
Note: Decorate with hard cooked colored eggs (optional)

Polish Easter Bread - Babka
Submitted by: Barbiel
3 cups flour
1/2 cup sugar
1 package yeast
1/2 cup milk
1/2 cup margarine
3 eggs, room temperature
1 can raisins, seedless
1/2 cup brown sugar, boiled
1/3 cup water, boiled
1/4 cup rum, boiled
Soften yeast in warm water and set aside. Combine sugar and eggs; beat well. Add melted margarine to egg mixture and beat again. Combine 1/2 cup brown sugar, raisins and 1/4 cup rum and add along with yeast and milk to egg mixture, blending well. Cover and let rise in a warm place until doubled in bulk. Bake at 350°F for 25 minutes or until brown. Makes 1 serving.

Easter Eggnog Bread
Submitted by: Barbiel
3 cups flour
1 tablespoon baking powder
1 teaspoon salt
1/4 cup butter melted
3/4 cup chopped walnuts
1 egg
3/4 cup sugar
1/2 teaspoon nutmeg
1 1/2 cups eggnog
3/4 cup chopped candied fruits or cherries
Sift dry ingredients together including sugar. Combine eggnog, melted butter and egg. Stir into dry ingredients just to blend. Blend in nuts and fruits. Place mixture into a greased and floured 9 inch loaf pan. Bake in a preheated 350°F oven about 60 to 70 minutes or tested done. Remove from pan and cool completely before slicing. Makes one bread.

To submit your favorite recipes to be included in the Garden of Friendship Recipe Book, please email them to Barbiel
Background graphics made especially for the Recipes Committee of the Garden of Friendship by Valatine