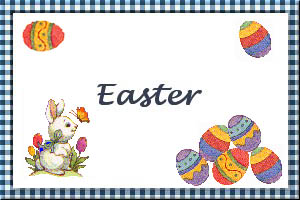 Braided Easter Bread
Submitted by: Cookie
4 3/4 cups all-purpose flour (4 3/4 to 5 1/4 cups)
3 tablespoons sugar
2 packages Fleischmann's® Rapid Rise Yeast
1 1/2 teaspoons salt
1 cup very warm water (120 to 130ºF)
1/3 cup butter or margarine, softened
4 eggs

In large bowl, combine 1 1/2 cups flour, 2 tablespoons sugar, undissolved yeast and salt. Add very warm water and butter; blend well. Stir in 3 eggs, 1 egg yolk (reserve egg white) and enough remaining flour to make soft dough. Knead on lightly floured surface until smooth and elastic, about 6 to 8 minutes. Cover; let rest on floured surface 10 minutes. Divide dough into two equal pieces. Reserve one piece. Divide remaining dough into three equal pieces; roll to 12-inch ropes. Place ropes on greased baking sheet; braid. Pinch ends to seal. Repeat with remaining dough to make second loaf. Cover; let rise in warm, draft-free place until doubled in size, about 30 to 45 minutes. Lightly beat reserved egg white, brush on loaves. Sprinkle with remaining 1 tablespoon sugar. Bake at 400ºF for 20 to 25 minutes or until done; switch positions of sheets in oven halfway through baking time. Cover with foil if needed during last 5 minutes to prevent excess browning. Remove from sheets; cool on wire racks.
Note: Preparation Time: 45 minutes, excluding rising time.

Cresca
(italian Easter bread)
Submitted by: Barbiel
1/4 cup water; warmed up to 1/2 cup
1 package yeast
1 teaspoon sugar
2 1/4 cups flour
1/3 cup Parmesan or Romano cheese
1 tablespoon olive or vegetable oil
1/4 teaspoon salt and pepper
2 eggs
Combine 1/4 cup of the water, yeast, and sugar. Stir to dissolve yeast and let stand until bubbly. Measure flour, cheese, 1 tablespoon of the oil, salt and pepper into a bowl. Blend. Add yeast mixture and eggs to flour mixture. Blend well. Add water by drizzling till flour forms a ball that is smooth and satiny. Knead. Cover and let rise til doubled, 1-1 1/4 hours or turn onto a lightly floured board, shape into a ball and place in a greased bowl turning to coat all sides, cover with plastic wrap and let rise for 45 minutes in a warm place. Punch down. Roll or pat dough into a circle that is 8 in diameter. Place in a greased 9 round pie or cake pan. Brush with oil. et stand in warm place till doubled (50-60 minutes). Heat oven to 350°F and bake till done and loaf sounds hollow when tapped, 30-35 minutes. Remove immediately from pan. Makes one loaf.

Portuguese Ham-and-Sausage Bread
Submitted by: Barbiel
2 envelopes dry yeast
1/2 cup plus 2 tablespoons warm water
3 3/4 to 4 cups all-purpose flour
1/2 teaspoon salt
4 large eggs, lightly beaten
4 tablespoons olive oil
1 1/2 pounds linguica and/or presunto
(a Portuguese ham similar to prosciutto)
egg wash (1 egg beaten and a tablespoon of water)
cornmeal for dusting
Dissolve the yeast in 1/2 cup of the warm water. Set aside. In a large bowl, combine 3 cups of the flour with the salt, mixing to distribute the salt evenly. Make a well in the middle of the flour and salt mixture. Add the eggs and the remaining 2 tablespoons of water to the well, then add the yeast mixture followed by the oil. Mix with your hands until well blended. Continue to add the remaining flour, until a medium dough (not sticky or loose) is formed. Knead for about 10 minutes until fairly smooth. Shape into a ball and set on a lightly floured surface. Cover with a dish towel and set aside in a warm, draft-free spot to rise until double, about 1 hour. To test if the dough has risen sufficiently, poke your finger into it; an indentation should remain. Without punching down the dough, use a scraper or sharp knife and divide the dough into four equal parts. Stretch or roll out each portion to roughly a 6- or 8-inch square and place on a lightly oiled baking sheet. Spread some the slices of linguica and/or presunto over the dough, leaving a 1-inch border all around. Starting at one edge, roll the dough jelly-roll style to create a log. Thoroughly pinch the edges to seal and place seam side down so that the breads won`t leak. Cover the bolas with a dish towel and let rise for about 45 minutes. Place on a cornmeal-coated wooden peel (or cookie sheet), brush with the egg wash, then transfer to an oven stone or a lightly oiled sheet pan. Bake at 425°F (220°C) for about 20 to 25 minutes depending on size, until richly golden. The bottom should sound fairly hollow when tapped. Makes one bread.

To submit your favorite recipes to be included in the Garden of Friendship Recipe Book, please email them to Barbiel
Background graphics made especially for the Recipes Committee of the Garden of Friendship by Valatine